Sportena Academy & Sathvee Foods jointly brings you the ultimate "LOCKDOWN SAMAYAL" for International Cooking Competition with a New Recipe.
The competition is open for all countries Women & Men to prove your cooking skills.
SIX WINNERS & SIX PRIZES
FIRST PRIZE – 10 Litre Cooker – 1 Winner
SECOND PRIZE – Microwave oven Dinner set – 2 Winners
THIRD PRIZE – Handi set – 3 Winners
All participants will be Awarded with e-certificate.
Rules & Regulations:
Any unique and original vegetarian main course dish.
Competitor must submit a written recipe with ingredients and process of preparation along with the video.
Clarity in audio and video must be ensured.
Recorded video (Max. 8 minutes) must reach us on or before 06.09.2020.
For details: 93808 69045 / 87783 94729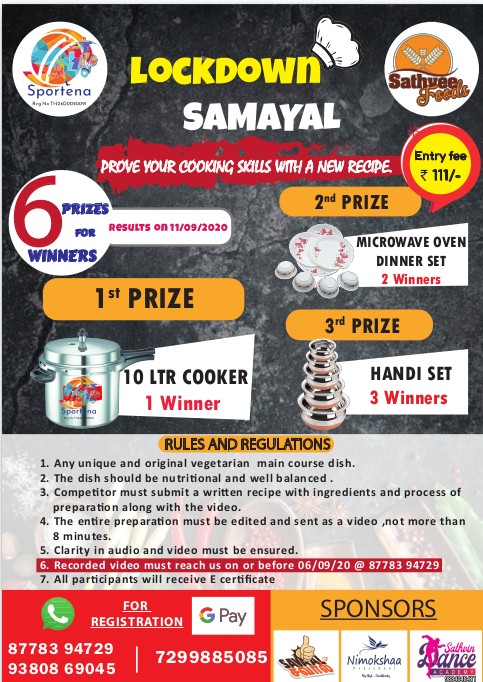 LOCKDOWN SAMAYAL | International Cooking Competition with a New Recipe