Indian Book of Records invites babies from the age group of 0-5 years to be a part of the Mega Baby Show-2020, and showcase your little ones before they step into the outside world.
It gives you a day out with your child and see him having fun and enjoys the lovely moments. Participating children can win various prizes.
There are several categories where your child can participate and win fantastic prizes. Be it award for mesmerizing smile or a glittering expression in the eyes.
Some of the categories for Indian Baby Show – 2020 are
Indian Sunniest Smile

Indian Active Baby

Indian Attractive Baby

Indian Sparkling eyes

Indian Chubby Cheeks Baby

Indian Cutest Child

Picture Perfect

Miss.TinyTot

Mr.TinyTot
For the sake of convince four age groups are built according to ability and age of the child.
A – 0 to 6 Months
B – 7 Months to 1 Year
C – 1 to 2 Years
D – 2 to 3 Years
E – 4 to 5 Years
Register your child for the most fabulous Indian Baby Show and experience the beautiful world of your child from his/her eyes.
For Every Participant Certificate of Participation will be given, Selected Students would get Certificate of Appreciation, and Winners would be given a Certificate of Excellence and a Medal from Indian Book of Records along with Surprise gifts.
REGISTRATION DETAILS
For Indian Baby Show 2020 – Entry Fee 500 INR
Payment: G-Pay, Phone Pay – 9703642790 (Any Queries call 7680870369/ 9133313369)
To Register: https://forms.gle/CJZUuMAsCFVnmrCL9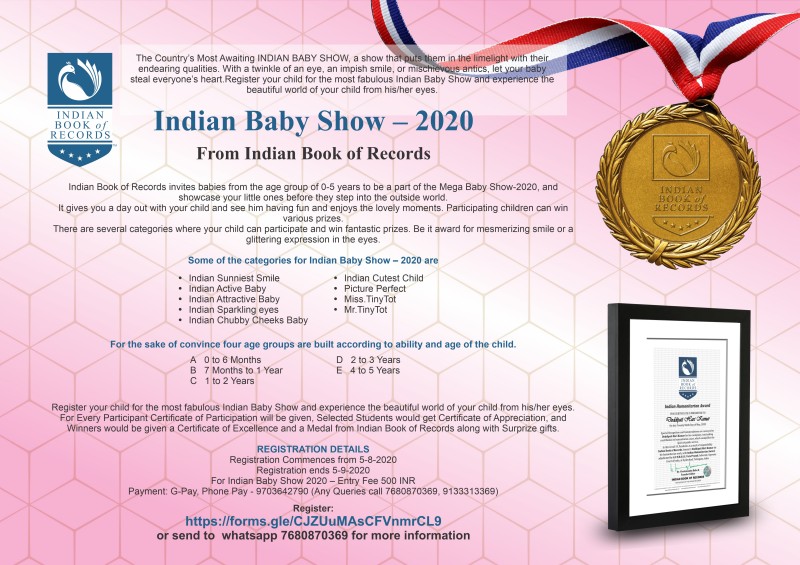 Indian Baby Show – 2020 From Indian Book of Records