Twinkling Star Kids Independence Day 2020.
Age 3 years to 14 years – 0nline competition.
Rules:
1. Activities should be done only by kids, 2 to 3 min video is mandatory for all the events. Kindly do not submit old entries or already submitted entries. Duplication if found would be rejected and disqualified at once.
2. Events:
1. Fancy Dress – (Age 3yrs to 6yrs)
(Our National Leaders/ Freedom Fighters)
2. Drawing – ( Age 6yrs to 9yrs)
(Unity in Diversity/ Incredible India/ My Dream about India)
3. Speech – (Age 9yrs to 14yrs)
(My India is Unique/ Pride of India/ Freedom Fighter I admire the most)
3. Payment can be done through Gpay/Paytm/NEFT
4. Judges decision is final.
5. All participant would receive 'Participation E-certificate'
6. Winners would receive ' Winners E-certificate'
7. Win surprise Gifts/Medals/Cash prize
8. Registration Fee: Rs.150 per Event.
9. Last date for registration: 13.08.2020
10. Last date for submission: 15.08.2020
11. Result is supposed to be announced by 25th August
12. For registration (through mail or WhatsApp)
Email: twinklingstarkids@yahoo.com
Contact no: 8610718163
NOTE: Any age group can participate in any number of events and receive 'Participation E-certificate'.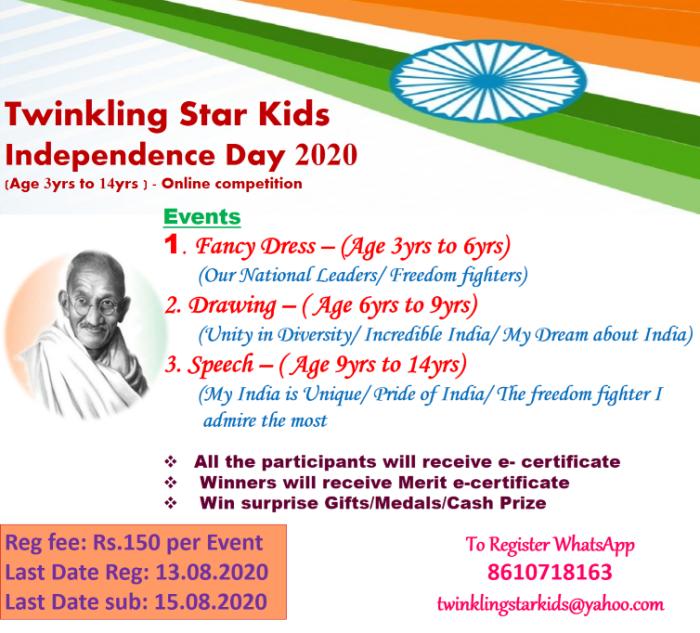 Twinkling Star Kids Independence Day 2020 Online Competitions