Educational Technology Foundation Society Quiz Contest 2020.
In this world , many events keep happening each moment. So , Educational Technology Foundation Society is going to held the competition on Quiz to spread the awareness among recent events. This time , our tagline is #Boost the Knowledge.
Registration is FREE!! FREE!!! FREE!!!
PRIZES AND CERTIFICATES :-
#1 – Certificate of Excellence + E-Badge + Grand Voucher
#2-#3 – Certificate of Excellence+E-Badge
#4-#5 – Certificate of Appreciation
#6-#12 – Certificate of Recognition
#13 onwards :- E-certificate of Participation
Referral Winner :- Grand Voucher+Certificate
Note :- Remember , Our priority is maximum number of correct answers in the shortest time…..
REGISTRATION LINK :- https://rb.gy/wql2i2
REFERRAL PROGRAM LINK :- https://rb.gy/xorrmd
NOTE :- The referral program link has to be filled by the person whom you have referred , not by you. Please note that otherwise you can face disqualification.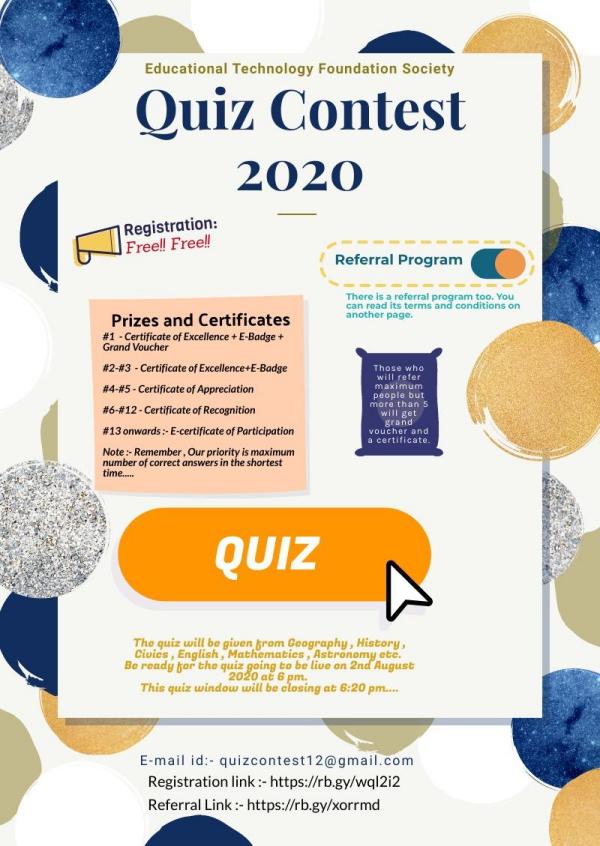 1. The quiz will be given from Geography , History , Civics , English , Mathematics , Astronomy etc. Be ready for the quiz going to be live on 2nd August 2020 at 6 pm. This quiz window will be closing at 6.
2. The Quiz Competition will be organized on 2nd August , 2020. The quiz window will open at 6 pm. The link for quiz is https://rb.gy/mwq3go.
3. The Quiz would be given from Civics , Geography , Mathematics , English , Reasoning , History , Astronomy etc. Come well-prepared.
4. This time , a webcam would be set up and a device too.
Through webcam , we would see if person is cheating. If webcam isn't available then that device will identify if screen is changed from quiz to chrome and if any person would come near you , that will also be detected. You will not get to know but that device will keep sending records to us.
5. In referral program , first priority is that you must refer maximum 5 friends otherwise you will be out of the race. And from the person who have referred 5 or more than 5 , those who have referred maximum people will be awarded with a grand voucher and certificate. This is not related to quiz , It is separate program. Please don't co-relate.
6. You can found registration link and the referral link at th end. Kindly acknowledge it.
7. This quiz is organised to keep you aware of the events happening in our world.
8. For being connected , keep checking our social media.
Instagram Id – @ngoetfs
Other Id- @creative_sketches 6937
We will keep you updated through mail id.
If any query , mail at quizcontest12@gmail.com..
Website Link :- https://quizcontest12.blogspot.com/
Educational Technology Foundation Society Quiz Contest 2020