The Shanker Art Foundation and ARTinfoINDIA.COM conducts 9th All India Children Art Contest 2020.
Theme for the year is My Favourite Indian Monument 2020. Children can also paint on the theme Covid-19 A Challenge too considering the current pandemic situation.
Since this is a drawing/painting competition, DO NOT write any TITLE or SLOGAN on the Paintings/art works for the theme My Favourite Indian Monument 2020. You may submit Poster with Title and Slogan on the theme 'Covid-19 A Challenge'.
Paintings, Drawings, Collages and Mix Media can be submitted.
01 June – 31 July 2020: Online Ticket Available for Individual Participants
15 July – 15 August 2020 : Please send your entry between these dates only
Prizes:
All India 1 Gold Award, 1 Silver Award, 1 Bronze Award and 5 Commended Awards on every 100 Paintings in each category.
Exhibition of 250 selected artworks for 30 days at India Habitat Centre, New Delhi.
Certificate of Merit for more than 250 paintings.
Certificate of Participation for all Participants.
Awarded and Meritorious Paintings will be displayed on the organizer website.
The size of the artwork should be 8.5 x 11 inches (A4), 11 x 14 Inches (1/4 of Cartridge Sheet Imperial Size) or paper of any Standard Sketchbook.
Medium: Drawing, Painting, Collage and Mix Media
Children can use Pencil, Colour Pencil, Ink, Pastels Colours, Poster Colours, Water Colours, Acrylic Colours and Paper Cuttings to create Artworks only on Paper. (Do not Paste 3D material on artwork)
​Entries must be on good quality paper.
Categories:
Group A – Preparatory Classes (Nursery, LKG, UKG)
Group B – Grade / Class I & II
Group C – Grade / Class III & IV
Group D – Grade / Class V & VI
Group E – Grade / Class VII & VIII
Group F – Grade / Class IX & X
Group G – Grade / Class XI & XII
Buy online Ticket at: https://www.townscript.com/e/my-favourite-indian-monument-covid19-a-challenge-013144
For Enquiries : you may write email to childrenartcontest.com@gmail.com
Complete Details, Registration : childrenartcontest.com/my-favourite-indian-monument-2020-covid-19-a-challenge/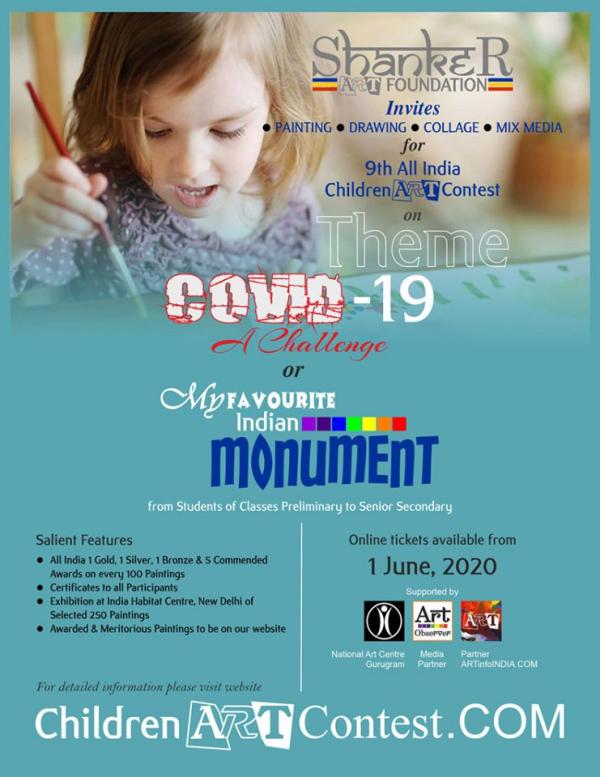 ARTinfoINDIA.COM 9th All India Children Art Contest 2020