National Youth Council of India and CIYF organizes Mega Virtual Talent Hunt "𝑸𝑼𝑨𝑹𝑨𝑵𝑻𝑰𝑵𝑬 𝑪𝑯𝑨𝑳𝑳𝑬𝑵𝑮𝑬".
𝙍𝙚𝙜𝙞𝙨𝙩𝙚𝙧 𝙉𝙤𝙬: https://youthcouncilofindia.org/challenge/
Registration Fee: 𝐅𝐫𝐞𝐞
Events:
>> 𝟭 𝗠𝗜𝗡 𝗖𝗛𝗔𝗟𝗟𝗘𝗡𝗚𝗘
>> 𝗙𝗔𝗦𝗛𝗜𝗢𝗡 𝗖𝗛𝗔𝗟𝗟𝗘𝗡𝗚𝗘
>> 𝗣𝗢𝗦𝗧𝗘𝗥 𝗗𝗘𝗦𝗜𝗚𝗡
>> 𝗕𝗟𝗢𝗚 𝗪𝗥𝗜𝗧𝗜𝗡𝗚
Categories:
>>> 𝑴𝒆𝒏: 𝑨𝒈𝒆 𝑩𝒆𝒍𝒐𝒘 18 / 𝑨𝒃𝒐𝒗𝒆 18
>>> 𝑾𝒐𝒎𝒆𝒏: 𝑨𝒈𝒆 𝒃𝒆𝒍𝒐𝒘 18 / 𝑨𝒃𝒐𝒗𝒆 18
Last Date for registration : 26 May 2020
Last date for task submission : 28 May 2020
Official Voting Dates : 29 -31 May 2020
One person can apply for all the Challenge..
Prizes:
👉Winners will Receive Limited Edition of CIYF Medal🏅 .
👉 Government Accredited Certificates.
👉Brand Ambassadorship at NYCI programs.
👉 All Participants will E-Certificate.
Entries should be original, unpublished and non-plagiarized.
All participants are requested to only send their submissions through Email and Link provided by the Organizers on the mentioned date.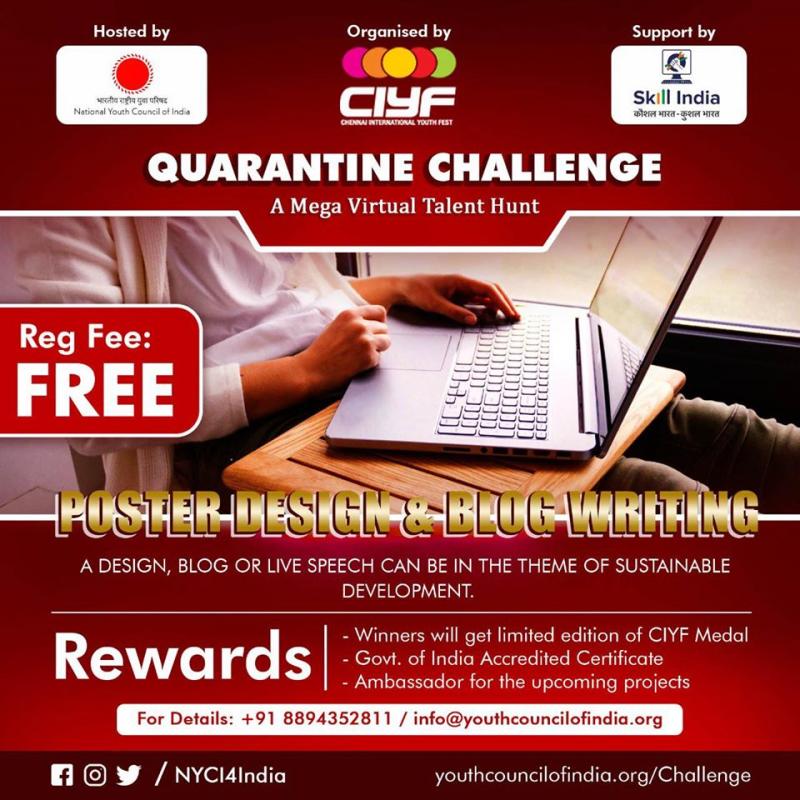 National Youth Council of India and CIYF organizes Mega Virtual Talent Hunt "𝑸𝑼𝑨𝑹𝑨𝑵𝑻𝑰𝑵𝑬 𝑪𝑯𝑨𝑳𝑳𝑬𝑵𝑮𝑬"