National Level Painting Competition 2020 is conducted by National Dairy Development Board to celebrate World Milk Day. (June 1)
Theme : MILK the key to physical & mental strength
NDDB Foundation for Nutrition (NFN), an initiative of National Dairy Development Board, is organising PAINTING COMPETITION for children of 10 to 15 years of age, born between 31 March, 2005 and 31 March, 2010.
Results to be declared on 4 June, 2020 on the portal : www.nfn.org.in
Short-listed paintings to be displayed on NDDB's Facebook page from 1st June, 2020
Cash Prizes for the best 3 Paintings. e-Certificate for all participants.
Rules & Regulations:
Student/ Participant must use art paper of the size 30 cm X 42 cm , A3 size sheet
Painting material such as pencil, oil pastel, colour crayons, water colours and mixed media of these can be used
Register & upload scanned copy of the painting in jpg/jpeg/png format @ http://wmd2020.nddb.coop/register.aspx preferably using a computer
Submit latest by 31 May, 2020, 5:00 pm
Participation is FREE, no entry fee is charged
Please do not send your original drawings directly to the organisers, unless asked for. Online participation only.
For any query, please write at giftmilk@nfn.org.in
Complete Details @ https://www.nfn.org.in/sites/default/files/pdfs/World_milk_day_painting_competition_2020_English.pdf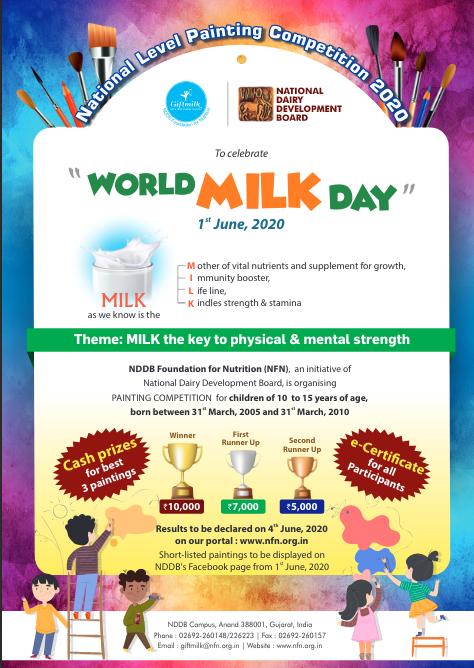 National Level Painting Competition 2020 by National Dairy Development Board