GLIMPSES OF COVID-19 – INTERNATIONAL ARTICLE WRITING CONTEST 2020
ABOUT GLAD : Global Learners Academy of Development (GLAD) is a Knowledge management organization and a Business Research Centre with focus on Knowledge creation and Dissemination globally. Global Learners Academy of Development is organizing an International Article Writing Contest 2020.
About the CONTEST : Article writing is a great skill. Many people possess it already well and many others are yet to realize the significance of writing articles on contemporary global issues. Realising the need to tap the potential writers Global Learners Academy of Management has decided to organize an International Article Writing Contest 2020.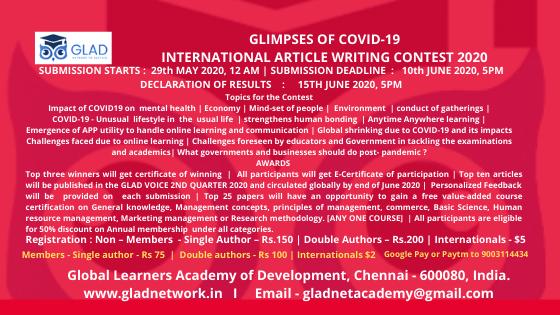 Topics for the Contest
COVID-19: Unusual lifestyle in the usual life
Impact of COVID19 on mental health
Impact of COVID 19 on Economy
Impact of COVID 19 on Mind-set of people
Impact of COVID 19 on Environment
COVID -19 strengthens human bonding
Anytime Anywhere learning due to COVID – 19
Impact of COVID-19 on conduct of gatherings
Emergence of APP utility to handle online learning and communication
Global shrinking due to COVID-19 and its impacts
Challenges faced due to online learning
Challenges foreseen by educators in tackling the examinations and academics
Formatting Guidelines:
Font – Times New Roman | Font Size- 12 | Line Spacing – 1.5 | Font Size of Heading & Subheading – 14 | Alignment – Justified
Registration fees – [maximum 2 authors allowed per article]
Members – Single Author – Rs.75 | Double Authors – Rs.100 | Internationals – $ 2
Non – Members – Single Author – Rs.150 | Double Authors – Rs.200 | Internationals – $ 5
MODE OF PAYMENT:
INTERNATIONALS :- PAYPAL ONLY
NATIONALS :- ALL PAYMENTS CAN BE MADE TO ACCOUNT
NAME – GLOBAL LEARNERS ACADEMY OF DEVELOPMENT
For Bank Account Details, Contact : Email – gladnetacademy@gmail.com / glad@gladnetwork.in, Mobile – + 91 7358671720
Eligibility – School students, College students ,Academicians, Industry Experts and any interested person.
Terms and Conditions:
Each person can submit any number of entries. But every submission has to be registered separately.
The articles must be written in English only
The entries submitted must have minimum 1000 words and maximum 3000 words
The entries must be submitted in word format with all details about the participant.
Only original articles will be considered for the competition. No part of the article should have been published earlier nor should it be under consideration for publication or contest elsewhere. The entries will be subjected through a strict plagiarism check.
Entries not as per the required format will be summarily disqualified.
If there arises any situation that is not contemplated in the rules, the organiser's decision on the same shall be final. The administration of the contest is within the sole and absolute discretion of the organisers.
The copyright of all the articles submitted will rest with the organizers
AWARDS
Top three winners will get certificate of winning
All participants will get E-Certificate of participation.
Top ten articles will be published in the GLAD VOICE 2ND QUARTER 2020 and circulated globally by end of June 2020.
Personalized Feedback will be provided on each submission
Top 25 papers will have an opportunity to gain a free value-added course certification on General knowledge, Management concepts, principles of management, commerce, Basic Science, Human resource management, Marketing management or Research methodology. [ANY ONE COURSE]
All participants are eligible for 50% discount on Annual membership under all categories.
SUBMISSION STARTS FROM DATE : 28th MAY 2020, 12 AM
DEADLINE FOR SUBMISSION OF ARTICLES : 10th JUNE 2020, 5PM
DECLARATION OF RESULTS : 15TH JUNE 2020, 5PM
ORGANIZING COMMITTEE
S.Saravanan,President, Global Learners Academy of Development
Dr. Udaya Mohan Devdas, University of Kelaniya, Sri Lanka.
Dr.Jayaranjani Sutha, Eastern University, Sri Lanka.
Dr. Kumudinei Dissanayake, Professor, University of Colombo, Sri Lanka.
Dr.Nadia Ibrahim Yousef Hyasat, University of Yarmouk, Jordan.
Dr. R Leema Rose, Loyola College, Chennai, India.
Dr. Aiste Saiang, New Mexico Institute of Mining & Technology, New Mexico.Datuk
Dr.John Antony Xavier, University Putra Malaysia,Malaysia.
S.Saravanan, President
Global Learners Academy Of Development,Chennai-600080, India
Website – https://gladnetwork.in/
Email – gladnetacademy@gmail.com / glad@gladnetwork.in
Mobile – + 91 7358671720
International Contest on Article Writing 2020