Online Drawing Competition
Group A: Age category – 3 to 6 years, Topic: Aquarium Coloring;
Group B: Age category – 7 to 10 years, Topic: Favorite time pass during lock down;
Group C: Age category – 11 to 14 years, Topic – Status of our country due to Corona virus.
General instructions:
Group A – After the registration, participants will receive an Aquarium outline that the child can creatively colour. The completed work should be sent via WhatsApp;
2. Group B and C – Creative drawing should be done on an A3 size paper and later a picture or a copy has to be sent via WhatsApp;
3. Medium of colouring and drawing is participant's choice;
4. All the submissions are to be done only through WhatsApp. Before submission, registration is mandatory over phone;
5. Last date of Submission is 30.05.2020;
6. Participation certificates to all the participants will be sent by email;
7. In each category 3 to 5 winners will be chosen. Certificates and trophies will be sent by courier to all the winners;
8. Mode of payment: Rs. 50 per drawing/coloring. Each child can send 1 or 2 drawings. Payment is through gpay or net banking (details will be provided on request).
Conducting by:
T. Bhuvana
Director, The Learning Tree preschool, Mogappair eri scheme, Chennai – 600 037.
Contact: 9840819794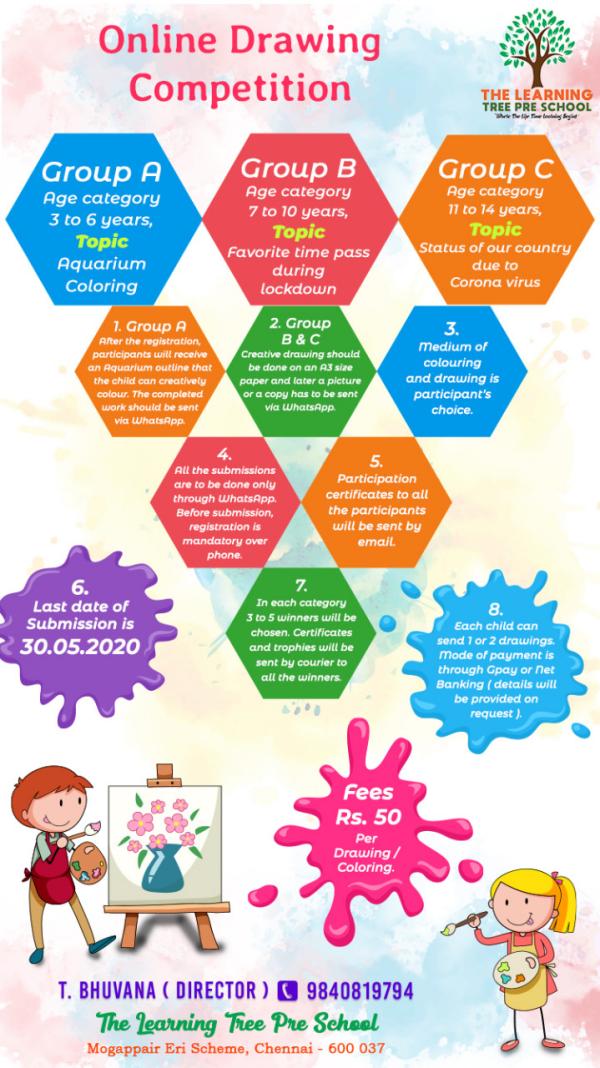 Online Drawing Competition for Children