Kalakriti Art Foundation is a NGO Registered under Society Act 1860, Govt of Jharkhand.
Express your thoughts in form of an artwork from the comfort of your home. The topic for the artwork is Corona Virus and participants shall be at liberty to use their creativity to depict any aspect related to the deadly Covid-19 ranging from precautions, prevention, lifestyle, healthcare, streets, counter measures or any other learning's during the current outbreak & lock down.
Competition is open to all students (Class 1 to Class 12th) and Graduation & Above and professionals
This is a National level competition and any student from India can participate.
The work must be made by the participant at their own.
All the entries will be divided in below mentioned age groups & Evaluation will be done accordingly.
Group A – Class 1 to 3
Group B – Class 4 to 7
Group C – Class 8 to 12
Group D – Class Graduation, Post Graduation or Professionals (No age bar)
Colour to be used and Paper Size:
Any colour medium to be used for painting
Student must use paper of size not exceeding A3 (12 inch x 18 inch) as after selection you may ask to send/submit original paintings with organizers.
PARTICIPATION/REGISTRATION FEE :
Group A – Class 1 to 3 -> Rs. 200/- per entry
Group B – Class 4 to 7 -> Rs. 200/- per entry
Group C – Class 8 to 12 -> Rs. 300/- per entry
Group D – Class Graduation, Post Graduation or Professionals (No age bar) -> Rs. 400/- per entry
For Any clarifications, please mail to kalakritisoa@gmail.com
Complete Details @ http://www.kalakritisoa.com/coronawarriors2020.html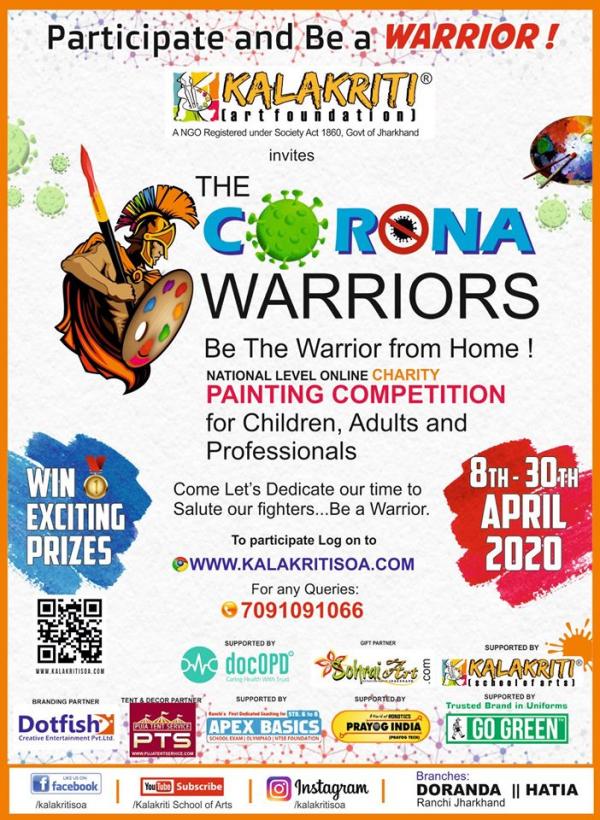 Kalakriti Art Foundation presents 'Corona Warriors National level Charity Painting Competition'