Xtragenius Great Indian Online ABACUS Talent Hunt 2020.
Xtragenius Presents Online Abacus Talent Hunt 2020.
Total Award amount: Rs.1,04,000.
Open Competition : Anyone can participate.
Exam will be conducted on March 15th.
**** Free Entry for Students Who had participated in 22nd National level Abacus Competition****
Prize Structure:
1. Topper – 5000 x 1 for Each Levels.
2. Winner's – 1000 x 3 for Each Levels.
3. Runner – up's – 500 x 10 for Each Levels.
Registration Dates:
1. Registration Will Close on 2nd March.
Registration Fee:
1. Registration Fee: Rs.500 .
2. Re- Attempt Fee: Rs. 100.
3. There is no limit on Re- attempt.
Selection Criteria:
1. Minimum Marks 90% and above Students will be eligible For Cash Prizes based on their Rank.
2. Students Who Score Highest mark with Least timing will get the Rewards according to their perfomance and verification.
3. Final Decision will be taken by Selection Committee.
4. All Disputes Subject to Chennai Jurisdiction.
5. Negative mark 0.5 for Every wrong Answer Example(100 Questions are attempted in that 99 Answers correct, 1 answer wrong, so Final Marks will be 98.5 = (99)-(1+0.5).
6: Previous level completed certificate is required for registration.
7 : Skype / video call verification will be conducted before the Results Announcement.
Rules:
1 : Google Chrome & Firefox Updated versions are Only Recommended.
2 : Windows 32 Bit Or 64 Bit Operating System.
3: Device Must Have Web camera.
4: Good Internet Connection.
5: Please Check The Instructions Before Starting The Exam In The Exam Window.
6 : If There Is Any Issue During Exam Report Us , We Will Take Necessary Steps For Your Exam Completion.
7: Trial/Practise paper For The Online Exam Will Be Provided To The Abacus Center/Franchisee's/Parents , They Must Guide Students How To Take Exam Online.
8: If We Found Any Malpractice Or Illegal Activity We May Terminate The Student Enrollment Immediately.
9: Attending Practise session is Necessary to avoid issues on Exam Day.
10: Practise Paper will be provided from February 15th.
For Registration : http://student.xtragenius.com/#/register
Registration Fee: Rs.500/- only
For doubt , enquiries , Registrations: call at +91-9840004161 /9840004162.
Stay Tuned. Updates Will be coming soon.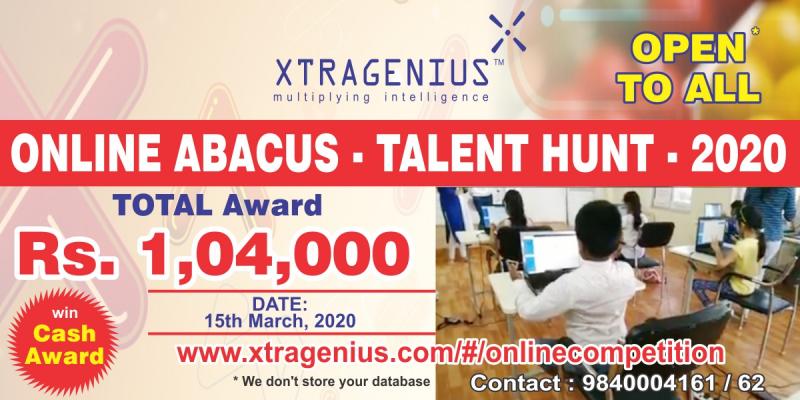 Xtragenius Great Indian Online ABACUS Talent Hunt 2020