RobinAge Bright Sparks Awards is a national initiative that builds on RobinAge's position as the Voice of Children to encourage and support creativity in children.
The competition invites students from class 1 to 10 to send in their fiction stories, poetry and artwork. The top three entries of each category and age group as well as three outstanding schools will win accolades, recognition and prizes. All entries submitted online will get an e-certificate of participation. For Complete Details and uploading of entries : http://www.robinage.com/rbsa
Last date for entries: February 29, 2020. Winners will be announced in RobinAge's 12th Anniversary Edition, dated April 16, 2020.
| Age Groups : | |
| --- | --- |
| – Group A: Class 1 and 2 | |
| – Group B: Class 3 to 5 | |
| – Group C: Class 6 to 8 | |
| – Group D: Class 9 and 10 | |
| Contest Categories : | |
| --- | --- |
| – Artwork | |
| – Poetry | |
| – Fiction Stories (of up to 500 words) | |
| | |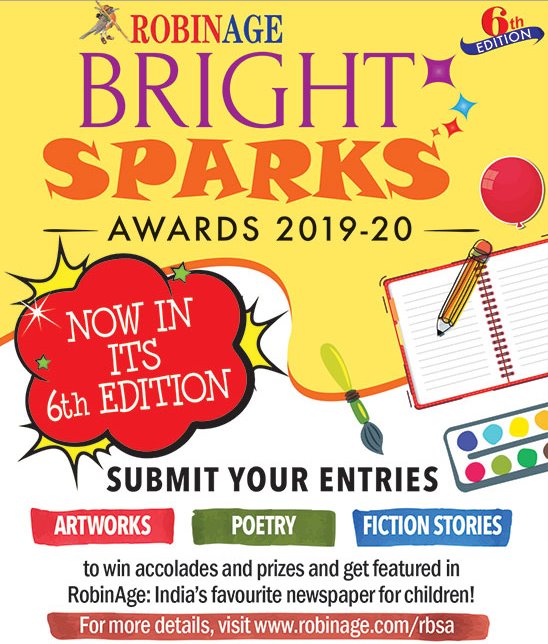 RobinAge Bright Sparks Awards 2019-20