ZING Spellathon Championship 2020
Is your kid a natural speller?
Can he/she understand the Phonics behind words?
Have you spent days and nights with your kids struggling to teach them the right spellings?
Either way,
It is now time to dig their unseen talent and Show-off their spelling competencies.
Register now to grab spectacular prizes!
All contestants will be awarded with a Certificate, Trophy & school bag as a token of motivation.
A phenomenal moment to become our OMR's Spelling Champion!
A contest like never before!
Zing Academy cordially invites to participate in SPELLATHON 2020 – A grand spelling contest for the kids of classes LKG – Grade V.
Venue: Anand Institute of Higher Education and Technology, Near Siruseri, OMR, Chennai.
Date: 02.02.2020
Time: 9.30 am
Registration fee – Rs.300
Round 1 & 2 : LKG – oral
UKG – V STD – Written
Final Round on Stage: LKG – V STD – oral
Championship winners will be awarded with trophy and certificate as per their respective grades.
Also all our SPELLATHON participants will be awarded with certificates, trophies and goodies as a token of motivation.
For details contact – 8056413344/ 9944479646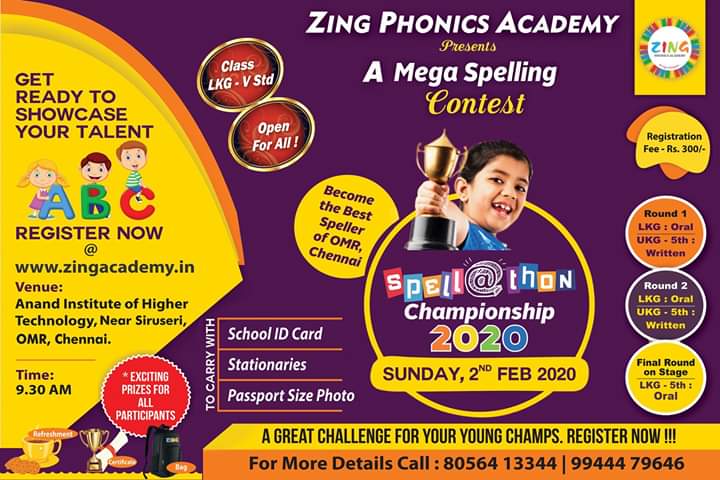 ZING Spellathon Championship 2020