Mahatma Gandhi, the Father of the Nation always stood by his values and principles which are the most sought after in today's world too. Honoring the 150thbirth anniversary of Mahatma Gandhi to be celebrated on 2ndOctober, 2019 – Central Board of Secondary Education joins hands with Adobe to launch a Creativity Challenge across all affiliated schools. This challenge is aimed at commemorating Gandhian values and philosophy among school students, while providing an impetus to digital literacy and early creative skills development across India.
There is no entry fee to participate in this challenge. This creativity challenge is open for submission from 1stNovember-2019 to 20th November-2019, inviting students from classes 6thto 12th to leverage Adobe Creative Cloud tools to prepare and submit creative projects in nine themes depicting Gandhi in their perspective.
Each submission must be in the form of photographs/animation/video/illustration/webpage/graphics or a combination of the above.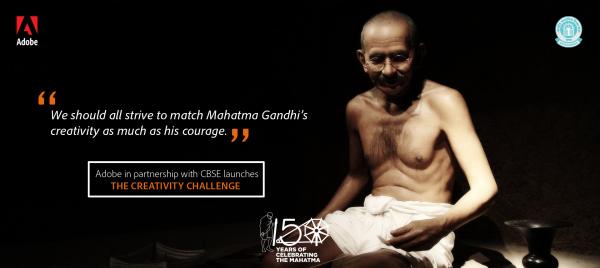 For more information, all participating schools can visit the Contest Portal https://adobemarketing.co.in/CreativityChallenge from 4thOctober, 2019 onward. The results will be announced in December-2019. Students of nine schools will be selected for awards and interaction with CEO, Adobe in India. The most innovative and creative students selected by the Jury stand an opportunity to visit Adobe HQ in California, USA.
http://cbse.nic.in/newsite/attach/creativity%20challenge.pdf
CBSE – Adobe Creativity Challenge For Students Of Classes VI-XII