Invitation for Children to participate in the 48th International Children's Exhibition of Fine Art Lidice 2020.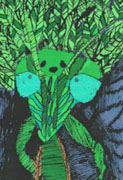 The UN General Assembly declared 2020 International Year of Plant Health. Healthy plants are important for all life on the Earth, for the proper functioning of ecosystems and for food safety.
The 48th ICEFA Lidice features the following theme:
LANDSCAPE
Sub-themes:
Life of plants and trees
Diversity and forms of landscapes
Landscape and home
Landscape affected by human activity
Spirit of landscape – its mood, fragrance, sounds
Architecture and landscape
Animals in the landscape
Horizons
ART TECHNIQUES
Drawing, painting
Printmaking
Mixed media
Photography
Film/animation
Art objects (ceramics, metal, wood, glass, textile, paper)
Photographs documenting art events or projects as well as series of entries that need to be installed together are ineligible for the exhibition.
For More Details : https://www.mdvv-lidice.cz/en/invitation/
Closing date for the registration and the last acceptable date on the postmark on the consignment of entries. 14 February 2020
E-mail: children@lidice-memorial.cz
PLEASE SEND YOUR ENTRIES TO THE FOLLOWING ADDRESS:
48th International Children's Exhibition of Fine Arts Lidice 2020
The Lidice Memorial, Lidice Gallery
Tokajická 152
273 54 Lidice, Czech Republic
48th International Children's Exhibition of Fine Art Lidice 2020