15th International Art & Graphics Contest 2020 | 5th International Cartoon & Film-Strip Contest "In My Homeland" started accepting entries now.
The admission of works for the Art and Graphics Contest lasts until December 31, 2019 (according to post stamp).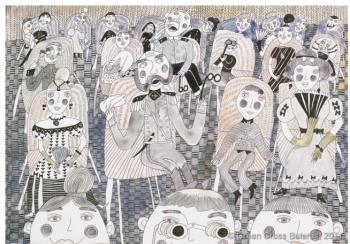 "In My Homeland" is a traditional free topic of the Contest.
The most interesting works that you send to the contest are usually those that are related to your personal impressions, experiences, events. Try to take a closer look at the world around you and reflect in the works that you did not leave indifferent.
* The age of participants ranges FROM 5 UP TO AND INCLUDING 18 YEARS.
* The work has to be CREATIVE and INDIVIDUAL made DURING THE YEAR OF THE CONTEST.
* The work may be of ANY SIZE; do not put it in a frame nor passe partout. A REGISTRATION FORM is attached to the back side of each work. (The registration form has to be filled in a print format)
ADMISSION OF WORKS STARTS ON OCTOBER 1 AND LASTS UNTIL DECEMBER 31 2019.
THE WORKS are to BE SUBMITTED TO THE FOLLOWING POSTAL ADDRESS:
Green Cross Belarus NGO
Contest "In My Homeland"
222201, Smolevichi
Republic of Belarus
(Provided postal address is complete. The works are picked up directly from the post office by the organizers)
See the terms of Art and Graphics Contest
—————————————————————————————————————
The admission of works for the Cartoon and Film-Strip Contest lasts until January 15, 2020.

A work has to be made following the technology of stop-motion with the use of any materials. Works made using computer graphics are not to be considered.
Technical requirements for a work: a resolution of at least 720×576 for the frame size of 4:3 or 1280х720 for the frame size of 16:9; a recommended codec is H.264.
See the terms of Cartoon and Film-Strip Contest