Indian Centre for Plastics in the Environment (ICPE) is a voluntary organization set up on the recommendation of a Task Force constituted by the Ministry of Environment & Forests, Govt. of India in January 1999. Besides other activities, ICPE helps formulate strategy and action program for management of plastics waste and related matters of plastics in the environment.
As a part of its social agenda ICPE had organized an All India School Contest in past inviting students from all over the country to offer their perceptions and suggestions on how we could achieve a cleaner environment with responsible use of plastics and management of plastics waste.
ICPE invite the school students to participate in the All India School Contest 2019. The theme of the contest will be:
Junior Category (Essay / Poster / Video Clip / PPT):
1. Plastic waste is a valuable resource. How can we ensure better collection and recycling for a Swachh Bharat?
2. Are you aware that Plastics saves energy & natural resources? How can we continue to derive these benefits with better management of plastics waste?
3. Plastics play vital role in our daily life. How can we reduce plastics waste going to dumps & water fronts?
Senior Category (Essay / Poster / Video Clip / PPT):
1. Develop an attractive Communication Plan educating people against littering.
2.Suggest how, as a responsible citizen, you can help Local Bodies / Municipalities / Panchayats for better Plastics Waste Management?
For the background on the theme students may like to visit ICPE website www.icpe.in.
Specifications and Rules & Regulations of the contest are provided
Entries will be received from 1st July, 2019 till 30th September, 2019. There is no entry fee.
For any clarifications, please contact ICPE Secretariat by e-mail icpe@icpe.in / icpe.mumbai@gmail.com & phone 022-22617137 / 65.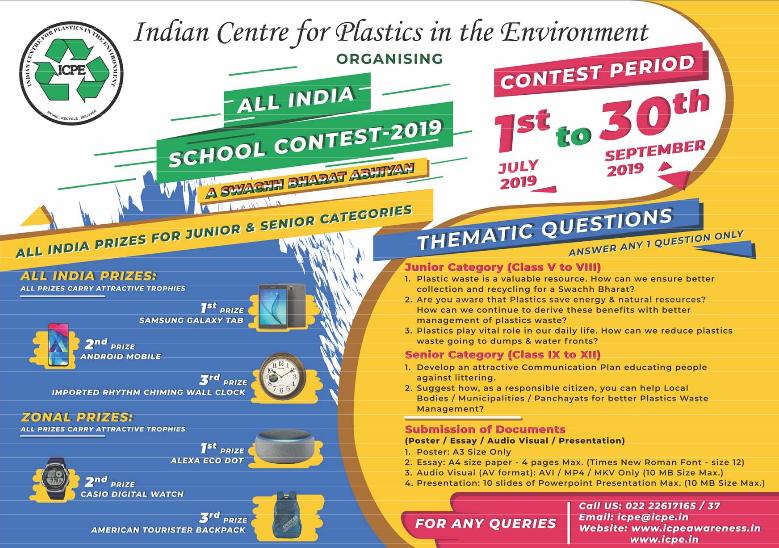 All India School Contest 2019 hosted by Indian Centre for Plastics in the Environment (ICPE)