Inter school Hand Writing & Drawing Competition in Bangalore on Aug 31, 2019.
VIMALALAYA HOSPITAL TRUST BANGALORE conducts Drawing Competition.
Competition Details:
CAT WISE Topic
CAT1: LKG, UKG, 1st : Fruit Basket
CAT2: 2nd, 3RD, 4th : Scenery
CAT3: 5th, 6th, 7th : Save Water
CAT4: 8th, 9th, 10th : Save Environment
CAT5: ABOVE 10th : Health is wealth
QUARTER SIZE CHART DRAWING SHEETS WILL BE GIVEN
PARTICIPANT SHOULD BRING THE MATERIALS
HAND WRITING SHEETS WILL BE GIVEN
Each Competition pay Rs 100
All Participants will get certificate and medal
All the winners will get Trophy and Certificate
The winner of two Competitions will be provided with "Raising Star trophy" and certificate
The school will be awarded on the basis of huge participant and more prize winners will be award as "Raising School trophy"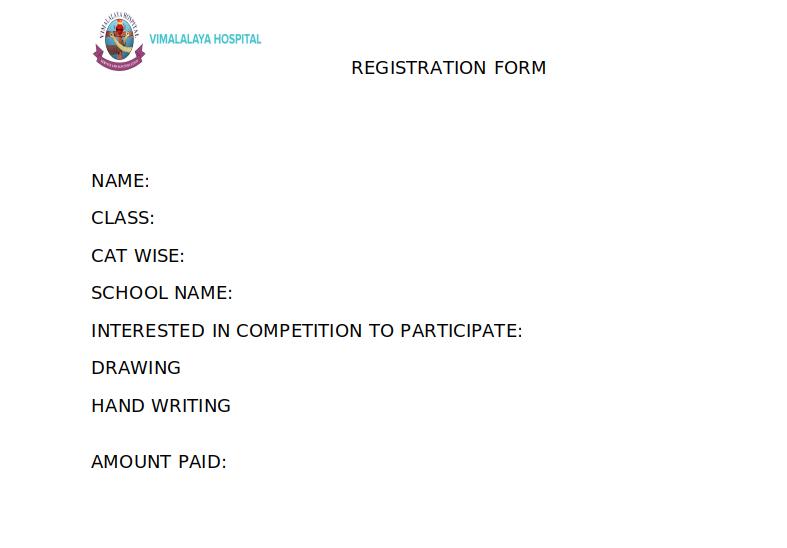 VIMALALAYA HOSPITAL TRUST BANGALORE
INVITATION TO PARTICIPATE IN "RISING STAR" INTER SCHOOL COMPETITIONS- 2019
Kind Attn: The Principal/Correspond
Dear Sir/Madam Greetings!
Sub: A letter of invitation for the participation of your school students in Inter school level Drawing and Hand writing to be Held in Vimalalaya Hospital campus on 31th August 2019.
We are looking forward to an enthusiastic and whole hearted participation from your school. The details of the competitions are enclosed for your perusal. Please fill in and send
The confirmation form attached herewith before 23th August 2019.
Any changes in names of participants should be intimated 2 days prior to the concerned coordinators.
Mail your entries to info@vimalalayahospital.comPlease bring the confirmation mail where we acknowledge your entry on the day of the competition.
We eagerly look forward to your esteemed presence.
Best regards
Sujithra prabu
Coordinator
6381090079 9786028024
Name: VIMALALAYA HOSPITAL TRUST
Date: 1/08/2019
Charity Name: VIMALALAYA
Charity Website: www.vimalalayahospital.com
Email Address: info@vimalalayahospital.com

Contact Information:6381090079,9786028024
Website:www.vimalalayahospital.com