The Museum of Typography in Chania expands its field of interest and invites artists from around the world to participate in the 5th contest themed "Typography – window to the world".
The invitation is mainly for professionals and students of graphic and visual arts who wish to design an original poster inspired by their homeland, featuring the culture, characteristic monuments – symbols, the natural environment, the history, the people, even the things that need to be changed.
The 30 posters selected by the jury will receive honorary distinctions and the top three will receive substantial prizes:
• 1,500 € for the first winner
• 1,000 € for the second winner
• 700 € for the third winner
The awards and prizes ceremony, along with the opening of the exhibition, will take place on Saturday, November 16, 2019, at the amphitheater of the Museum of Typography.
Interested parties should send their work from Monday, July 15th to Monday, 30th September 2019 at the email: typography.poster@gmail.com.
For all information regarding entry to this international competition : http://www.typography-museum.gr/5th-international-poster-contest/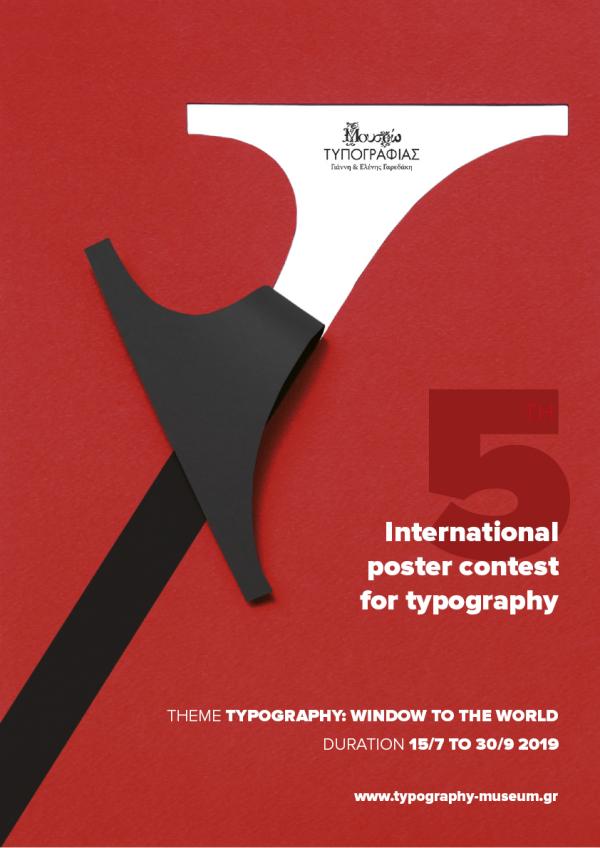 5th International Poster Contest 2019 for Typography