AFDA FEST 17-02-2019 DANCE COMPETITION
SOLO CATEGORY REGISTRATION FEE : RS .200
A) 5 – BELOW 8 YEARS
B) 8 – BELOW 10 YEARS
C) 10 – BELOW 12 YEARS
D) 12 – 15 YEARS
TIME DURATION (MAXIMUM 2:30 MINUTES)
GROUP CATEGORY REGISTRATION FEE : RS.1000
A) 5 – BELOW 10 YEARS (MIN 3 MEMBERS , MAX 5 MEMBERS)
B) 10 – 15 YEARS (MIN 3 MEMBERS , MAX 5 MEMBERS)
TIME DURATION (MAXIMUM 4:00 MINUTES)
OTHER DETAILS :
1. EVENT STARTS AT 3:00 P.M.
2. PARTICIPANTS SHOULD SUBMIT THE SONG TRACK
BEFORE THE EVENT GET'S STARTED.
3. SPECIFIED TIME DURATION OF EACH SONG TRACK
MUST BE STRICTLY FOLLOWED.
4. JUDGE'S DECISION WILL BE FINAL AND CANNOT BE OVERRULED.
5. REGISTRATION AMOUNT WILL NOT BE REFUNDED.
CONTACT : 9976182838 / 9176182838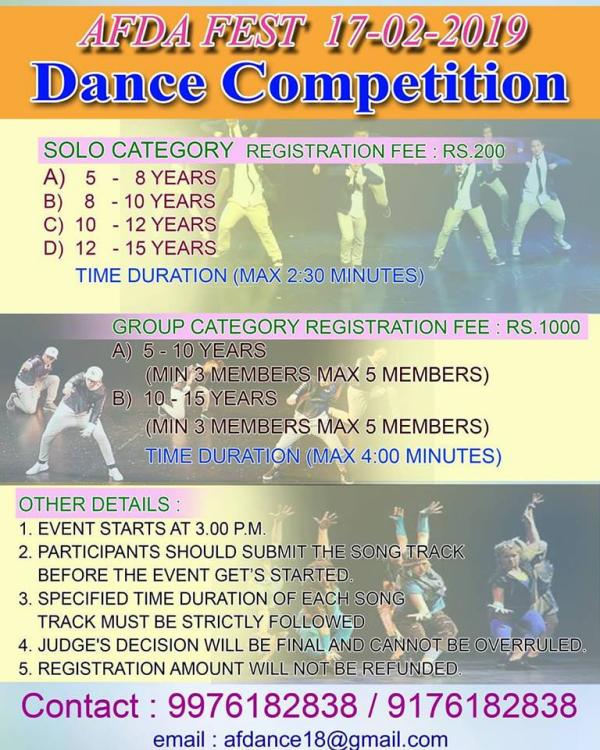 AFDA FEST 17-02-2019 DANCE COMPETITION