Super Kidz'18 Children's Day Competitions for Kids.
Events & Timings:
RHYMES – Ages 3 TO 6 – Timing – 10.30 T0 11.30 AM – TAMIL/ENG/Hindi
STORY TELLING – 3 TO 8 years- 11.30 TO 12.30 AM – TAMIL/ENG/Hindi
DRAWING – 3 TO 5;6 TO 9;10 TO 15 yrs – 10 .30TO 12.30 AM –
6 TO 9 YEARS (SEA CREATURES /  NATURE /  CLEAN INDIA)
10 TO 16 YEARS : POLLUTION /  SAVE TREES /  INDIA 2020
COLORING – 3 TO 6 yrs – 10 .30TO 12.30 AM
Sheets will be given on the spot.
ABACUS /MENTAL MATHS – 4 TO 7;8 TO 12;13 TO 16 – 2.00 TO 3.00 PM –
ABACUS TOOL HAS TO BE BROUGHT
FANCY DRESS – 3 to 8 yrs – 2.30 to 3.30 pm
ANY Festivals in India
Or National Leaders
ON STAGE EVENT
For Registrations Please visit LELYCEE.IN
GENERAL RULES:-
All participating schools / STUDENTS to reach by 8.30 am.
Spot registration are allowed only from 8.00 to 10 .00 A.M
Registration confirmation to be produced. (Please ensure receipt of confirmation prior to the day of the competition)
The decision of the judges will be final and binding.
For group registrations from schools, apartments should produce valid ID proof (like ID card) Participants must bring all stationary items like pen, pencil, eraser, crayons, paints, chess boards, yoga mats with them. Only sheets will be provided.
There are only 2 prizes for each event and a participating certificate will be given to all participants.
For Rhymes and story telling properties are allowed.
You can visit Le Lycee institution and pay the amount in person. Online payment also available. Once you have transferred the amount kindly send us a mail with the events to sudhakas@gmail.com / kowseliya@lelycee.in
STUDENTS CAN REGISTER IN MULTIPLE EVENTS ACCORDING TO THEIR AGE. EVENTS UNDER THE SAME TIME FRAME WILL BE CONDUCTED ONE AFTER THE OTHER.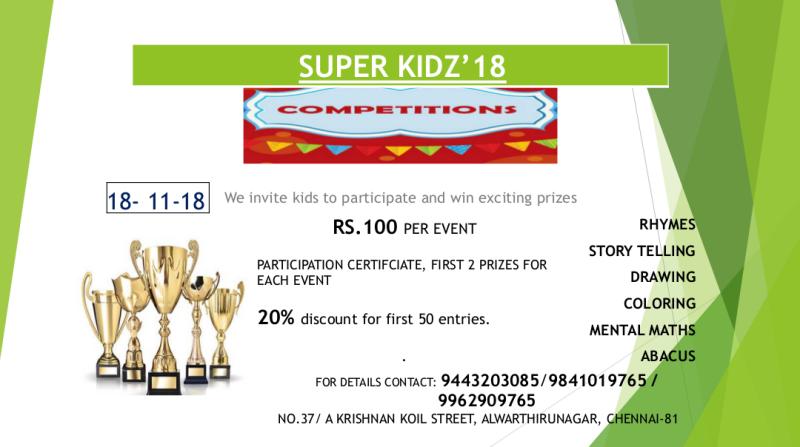 Super Kidz'18 Children's Day Competitions for Kids