PADMA SESHADRI BALA BHAVAN SENIOR SECONDARY SCHOOL, (PSBB)SIRUSERI REGISTRATION FOR ADMISSION 2019 – 20.
NO VACANCY FOR IV,V, VII, IX. LIMITED VACANCIES FOR OTHER CLASSES.
ISSUE OF REGISTRATION FORMS FOR CLASSES LKG, UKG, I, II, III, VI &VIII
Date : 5.12.2018 (Wednesday), 06.12.2018 (Thursday), 07.12.2018 (Friday)
Time : 9.30 AM to 12 Noon
Phone: 27402541/27402541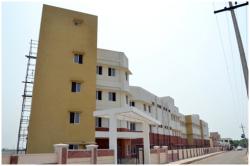 Registration forms should be collected in person by the parents from the school office during the above dates, with original birth certificate of the child, copy of the latest progress report, and address proof for verification.
School Website : http://www.psbbschools.ac.in/siruseri/