"OJAS Eduland" conducts Kid's Competition on 21st Oct 2018, Sunday.
 
Event Summary
Clay Modelling
Cooking without Fire
Handwriting
Rangoli or Golu Steps Decoration
Kuthu Vilaku Decoration
Colouring / Drawing Contest
Fancy dress Competition
Show and Tell
Rhymes
Storytelling
Singing Contest
Bhajan
Tamil Sorpolivu
Dance Contest
Categories:
Pre-K.G – UKG ( Parents may help )
1st  to 3rd  std
4th  to 6th  std
7th  to 9th  std
10th – 12th std
 Age Group: 3 – 18 yrs (Pre.K.G to 12th std ). All the age group can participate in all the items.
 Event Venue:
OJAS Eduland, MIG –  Z- 72(A), Z Block, 5th Avenue, Anna Nagar west, Chennai – 40
 To register – WhatsApp/ SMS to 9498425898
For more details – 9498425 898 / 7200003898 / 9986584433
Email – ojaseduland@gmail.com

Events in Detail:
Clay Modelling
Time : 1.00 – 1.20 pm (20 min)
Topic : Banana , Betel Leaf and coconut
Participants have to bring the clay. A paper plate will be provided to the participants for display.
Cooking without Fire
Time: 1.00 – 1.20 pm ( 20 min)
Participants have to bring food materials for preparation
Juices, Salads or any food can be prepared.
Handwriting competition:
Time : 1.20 – 1.40 pm (20 min)
Paper & Text for writing will be provided
Participants have to bring writing pad & Pen / Pencil.
   
Rangoli or Golu Steps Decoration
Time: 1.20 – 1.40 pm (20 min)
Participants have to draw flower rangoli or colour powder rangoli.
2 feet by 2 feet space will be provided for kids.
 
Golu Steps Decoration
Kids can bring few cardboard boxes and arrange like steps and display few dols and other items like Navarathri Golu steps. Kids can use any reusable materials to make steps.
Kuthu vilaku decoration
Time: 1.40 – 2.00 pm (20 min)
Participants have to bring Kuthu vilaku and decorate it with flowers, cloth or any decorative items
Colouring / Drawing
Time: 2 – 3.00 pm
Topic : Any one avatar of Mother Durga
Participants have to bring Pen / Pencil / Pad  & colouring materials.
 Printed picture will be provided for Pre.K.G to 3rd students for colouring.
 Quarter size plain chart will be provided to 4th to 12th std students for drawing.
Fancy dress Competition
Time: 3.30 – 4.00 pm
Topic : Any avatar of Mother Durga
Show and Tell
Time: 4.00 – 4.30 pm
Participants have to bring any item from home and explain why they chose that particular item, where they got it, and other relevant information. (Maximum 2.5 min)
 
Rhymes Competition
Time: 4.30 – 5.00 pm
English / Tamil (Properties are not allowed )
Kids can sing any rhymes of their choice. (Maximum 2 min)
Storytelling Competition
Time: 5.00 – 5.30 pm
English / Tamil (Properties are not allowed )
Kids can tell one story of their choice (Maximum 3 min)
Singing Competition
Time: 5.30 – 6.00 pm
Tamil / Malayalam
Tamil Sorpolivu
Time: 6.00 – 6.30 pm
Topic: About Navarathri or Abirami Andhadhi (Any 1 or 2 Pasuram)
Dance Contest
Time: 12.30 – 1.00 pm
Dance competition is only for Play school, PreKG, LKG & UKG Kids
Registration fee Rs.200/- for a participant per event (for all the age group).
Note : Prizes will be distributed on 26th October 2018 ( Friday), @ OJAS Eduland Office
 
Reference Links
https://ojaseduland.wordpress.com/
https://www.facebook.com/Ojas-Eduland-244410655734613/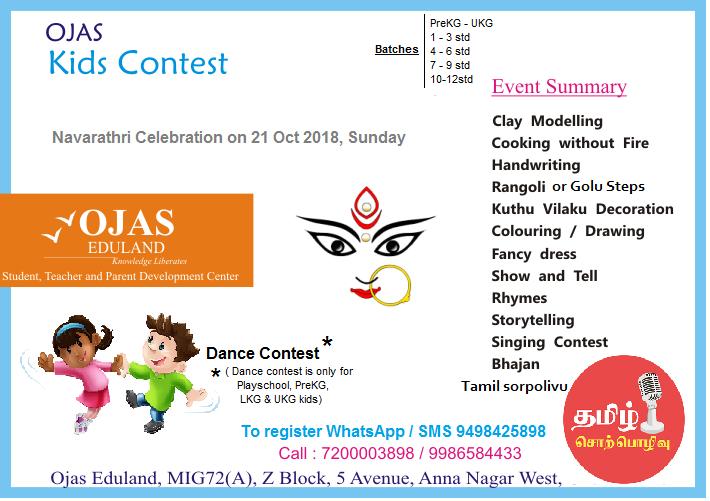 OJAS Eduland conducts Kid's Competition on 21st Oct 2018