Holidays Camp Behaviour Building Camp for Pre-teen and Teenagers
Age Group: 9 to 17 years
When: 24 – 28 Sep 2018
Monday – Friday
For Girls : 1 – 3 pm
For Boys : 4.30 – 6.30 pm
Where: OJAS Eduland, Anna Nagar, Chennai 40.
About the Camp: A "Holidays Camp", that helps the pre-teen & teenage boys and girls to learn life skills with better behaviour.
Separate timings for boys and girls.
Topics Covered:
Social skills
Food habits
Sleeping habits
Reading Habits
Self discipline
Self awareness
Fitness and games
Note: Refreshments will be provided.
Event Venue: OJAS Eduland
Z- 72(A), 5th Avenue, Opp to DSK Benelli Showroom,
Near Blue star Saravana bhavan hotel
Anna Nagar west, Chennai – 40
Registration fee: 3000/- ( Three thousand per participant)
Email:  ojaseduland@gmail.com
Reference Links
https://ojaseduland.wordpress.com/
https://www.facebook.com/Ojas-Eduland-244410655734613/
Contact: 
9498425898
9986584433
7200003898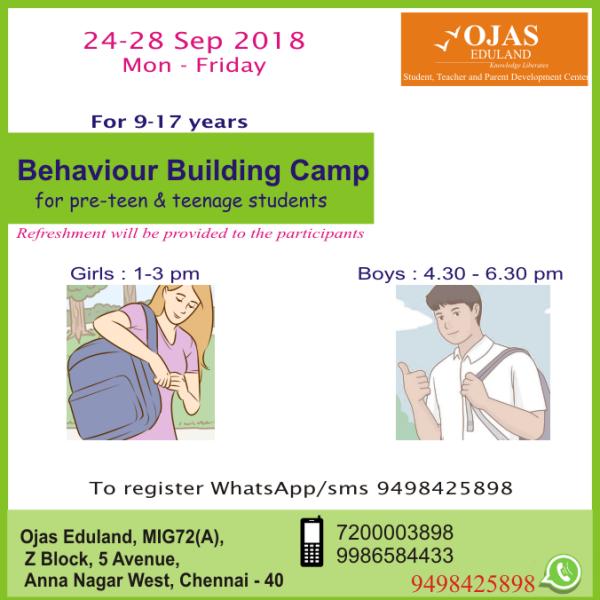 Holidays Camp : Behaviour Building Camp for Pre-teen and Teenagers