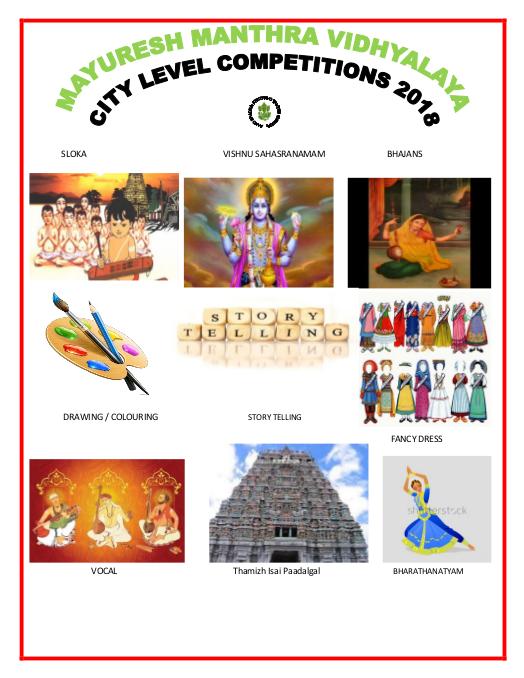 Chennai City Level Competitions 2018 by Mayuresh Manthra Vidhyalaya.
Contact Details:
MAYURESH MANTHRA VIDHYALAYA
Flat No. F1, PRANEEL KRISHNA, Plor No. 258 & 260
Gnanamurthi Nagar, Ambattur, Chennai – 600 053.
Phone: 7550262553 / 96001 37870
Email: manthravidya@gmail.com / www.mmvtrustchennai.org
Competition details
1. Sloka competition
Portions: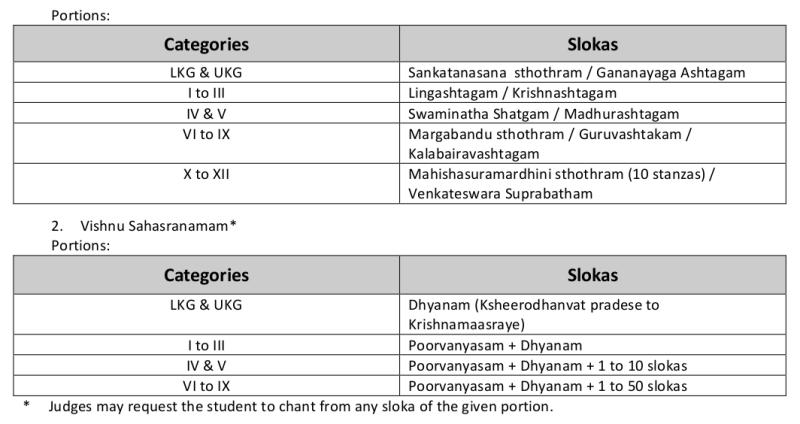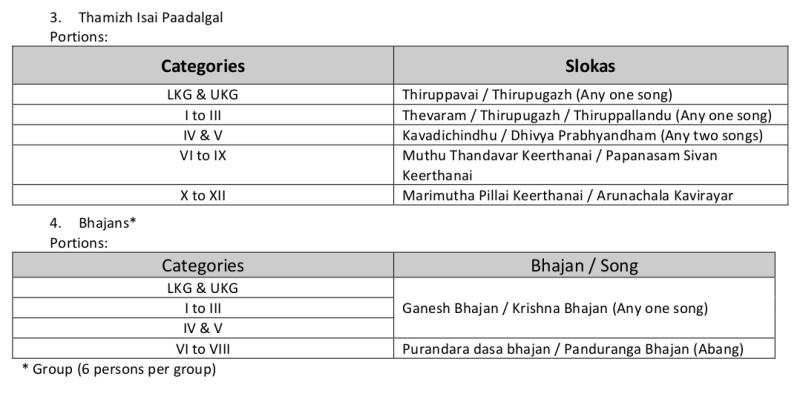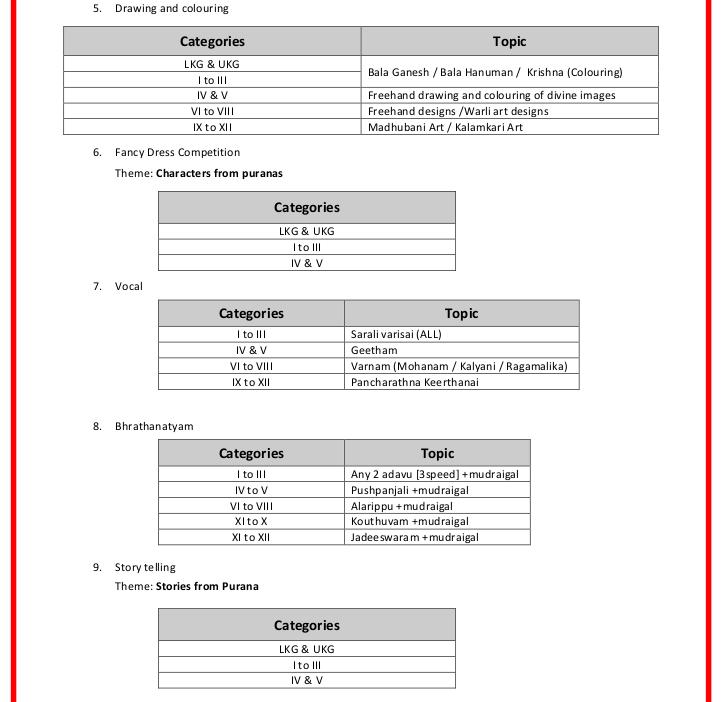 POINTS TO BE NOTED
1. Competitions will be conducted on 21.10.2018, (Sunday) at GK Shetty Vivekananda Vidyalaya, Ambattur, Chennai – 600 053.
2. Results will be published on the website 2 days after the competition i.e. on 24.10.2018.
3. Prize distribution function will be held on 28.10.2018, (Sunday) evening and winners will be communicated with the details.
4. Prize winners need to come in person and collect the prizes at the function.
5. Eminent personalities will be invited for the function and they will give the prizes to the winners.
6. Application can be obtained from Trust office in person / by post / by email.
7. A participation fee of Rs.100/- per student per competition to be sent along with registration form.
8. You can fill in the form and submit in the following modes
1. In person to the trust address in Ambattur along with cash / DD.
2. Application through post / courier / email and fee through account transfer to Mrs.
Vimala Sankara Narayanan , Please contact the organizer for account details : manthravidya@gmail.com
9. Last date for submission of registration forms along with DD is 10.10.2018 (Wednesday).
10. Regarding selection / winning in the competition – decision of the judges / MMV Trust is final.
11. Students are requested to carry snacks and sufficient water.
12. Refreshments for escorting teachers will be provided at the venue.
13. Students must come with their school uniform and ID card.
14. For Coloring competitions (LKG to III Std.) outline sheets will be provided by the organizers and colouring materials to be brought by the participants.
15. For Drawing competitions (IV to XII) drawing sheets will be provided and participants need to bring the materials.
16. Bhajans will be conducted for groups and each group can have 6 members.
17. For any enquiries contact 9600137870, 7550262553 or manthravidhya@gmail.com or visit www.mmvtrustchennai.org
MMVTRUST