*KIDS & Artists* CAN PARTICIPATE & WIN PRIZES in Online Art Competition/Exhibition 2018
————-
*Kids category* (Any Topic or THEME, Any Medium)
Send Paintings/Cartoons (size 15″x11″) Greetings (size 7″x10″)
(Participant can submit/send soft or hard copy as suit you with Name, Class & School Name, City
————-
Adult Artist can submit their art work jpg image at narendermehta@yahoo.co.in
Or by Whatsapp at 9891128642
————-
Submit Your Entries between 1st August to 15th Oct., 2018.
————-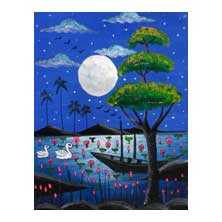 *School/ Institute/ Art Hobby Centre* can participate with minimum 20 entries however there is no limit to maximum entries.
*Entry fee* Indian Schools : Rs. 110 per entry.
International Schools : Rs. 275 or equal amount of other currency.
————-
*Life members* are also allowed to participate individually. For Indian Life members Entry Fee is Rs. 500 & International Life members Entry Fee Rs. 1500 will be charge for any no. of entries from each participant. Life member form is available at here :- http://www.kshitij.org/lifemember's.htm (Life membership Fee is Rs. 2000 onetime)
————-
*Open Category : Individual or group of Indian Artist/ Kids can send minimum 3/ three entries @ Rs. 200 per Entry. No limit for maximum no. of Artist/ Entries.
————-
*Group (H*) for *INDIVIDUAL KIDS & Adults* (Without paying Life membership Fee)
*Entry Fee*
*Indian Participants* Rs. 500 for First Entry, + Rs. 100 per additional entry.
*International participants : Rs. 1500 for First Entry, + Rs. 300 per additional entry.
————-
*Group (K) for small KIDS*
Age less than 5 Year (Class KG, Nursery etc.)
* Teachers can help the students in Drawing & guide them in colouring. Line Drawing Image on photocopy paper (A4/Letter size) can also be used for colouring. Kids can use same or separate images for colouring decided by Teacher/Parents.
————-
*Group (I) for Artists & Art Teachers*
Artists & Art Teachers can send (Painting, Graphics, Photography, Drawing, Sculpture, Mix Media etc. JPG Image email at narendermehta@yahoo.co.in or whatsapp at 9891128642 with text :-
Artist Full Name :
Age : (Minimum 18 or +, Age Proof Required)
Mobile No. & Email Id :
Complete Postal Address with Pin Code, City, State & Country :
*If your students are participating in our current year exhibition then there is NO ENTRY FEE for you, means it is free for Kshitij Art Teacher*
*NO THEME / NO SIZE / ANY MEDIUM / ONLY JPG IMAGES*
————-
*No copied work is allowed.*
————-
*Selected Entries will be awarded by Certificates of Honour, Certificate of Merit, Medal & Mementos.*
————-
Entry fees should be sent by Bank Demand Draft/ A/c payee Cheque (payable at par through clearing) only in favour of *KSHITIJ* payable at New Delhi or Gurgaon (Haryana).
————-
*Entry fees can also be paid by E-Transfer* or by PAYTM (You may ask for bank details)
————-
*Results & Exhibition* of award winning entries (under gallery option) will be displayed on the website www.kshitij.org latest by on 31st December, 2018.
————-
*AWARDS:*
50 Gold Medal and 50 Silver Medal for each group.
*Every Participant will be awarded a Certificate of Merit.*
*Special Awards for School/Art Institute/Groups/Individual Participants*
The prizes of participants will be sent by regd. post/courier latest by 15th March 2019.
————-
Entries are to be sent along with entry fee at the following address given below by Regd. Post, Speed Post, Courier, or by Hand :
Narender Mehta
642, Sector-4, Urban Estate,
Gurgaon – 122 001 (Haryana) India
(Phone : 0124 – 4076895, 9891128642, 8368156535
————-
Before sending entries read & follow complete details at
(for Open Topic) www.kshitij.org/howtoparticipate.htm