At Ojas Eduland we are conducting acting classes for school students.
Name of the Program:   Acting Classes
Schedule: 24 June 2018 to 23 Sep 2018
Batch & Time :
5 – 11 yrs : 9.00 to 10.00 am on every Sunday.
12 – 18 yrs : 10.30 to 11.30 am on every Sunday.
Coach:
Mr.Nissanth – an Actor, Assitant Director and Dubbing Artist from Tamil Film Industry.
About the program
ACTING has to be viewed as a good foundation for children's life, as the way they are PLAYING SPORTS.
Acting class open-up the world of creativity to the young kids which helps them to learn real life skills and traits.
The young child who learns acting has countless benefits. A few of them are listed below:
Enhances the confidence level of the child
Improves communication skills
Makes the child flexible
Helps the child to be a team player
Develops reading skills
Makes the child to understand Viewpoints
Develops Social awareness
Increases Memory Skills & Concentration
Reduces Stress
Enrolling your child in this acting class not only help them to understand acting skills but also improve their life skills.
Note: Refreshments will be provided
Event Venue:
Ojas Eduland
Z- 72(A), Z block,
5th Avenue, Opp to DSK Benelli Showroom, Near Blue star Saravana bhavan hotel,
Anna Nagar west, Chennai – 40
Email:  ojaseduland@gmail.com
To register WhatsApp or SMS : 9498425898
Mobile:
9498425898
9986584433
7200003898
https://ojaseduland.wordpress.com/
https://www.facebook.com/Ojas-Eduland-244410655734613/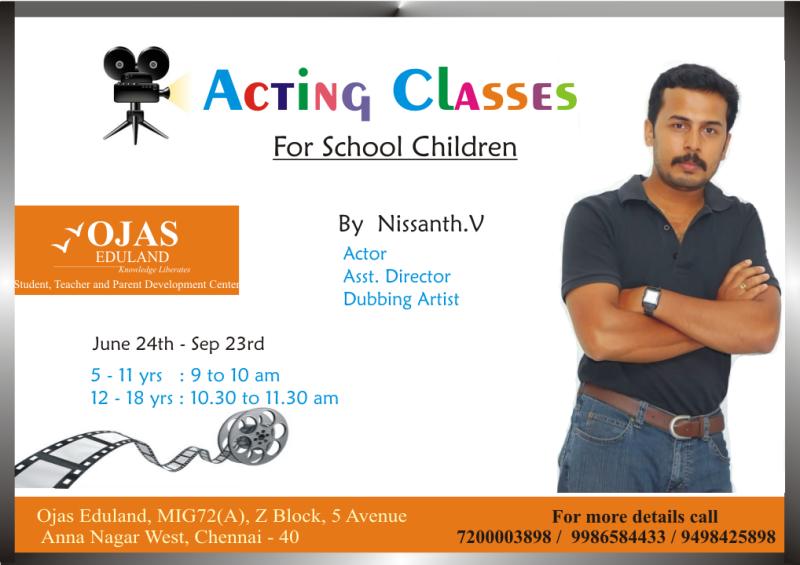 Acting Classes for School Children