DN CREATIVE KIDS PROUDLY PRESENTS ONLINE CARNIVAL FOR KIDS 2018
Rhymes / Stories / Dress Me UP
Fun filled delight for our Little Buds
Important Points : Registration Fee : Rs 200 per event for Chennai Kids / Rs 250 for people out of Chennai and TamilNadu
Last date for Registration June 8, 2018 , Last date for Video Submission 15th June 2018 , please refer the Terms and conditions.
Fancy Dress (Kids need to speak about few lines about their character – English only ) :
Nursery and Pre kg : Any Vegetable
LKG/UKG – National Leaders
Classes 1 and 2 – Our helpers
Rhymes ( Tamil and English separate category )
Nursery and Pre Kg
LKG and UKG
Story Telling (Tamil and English separate category)
LKG/UKG – Fairy Tale
Classes 1,2 – Panchatantra stories
Classes 3,4 and 5 -Any moral based stories (Theme – Honesty , Affection and Kindness )
For Registrations Contact us @ 9003367830 / Email : dncreativekids@gmail.com
Whatsapp @ 9003367830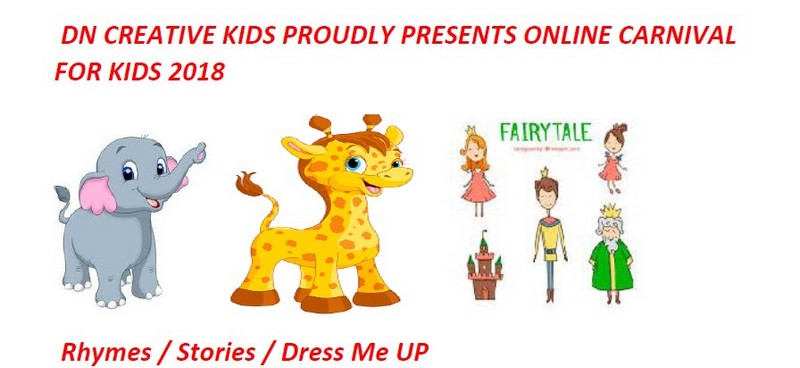 Terms and Conditions
1. Student's name, class, school, Parents name, contact number and email id are to be
provided at the time of registration.
2. Each student will be given a unique id number on registering, which will be notified
through email.
3. Students can send videos from 1st June till 15th June.
4. Videos can be send to us at the allotted dates only.
5. Duration of the story/Rhymes/Fancy dress must not exceed 3 minutes.
6. Before starting the story, the participant needs to hold an A4 sheet with the name of the
contestant and Registration number for 5 seconds. Also while posting, the following
message needs to be added:
This is the video of (contestant's name) and Registration number (——–)
7. Considering the size of the video, it is recommended that the video is recorded using a
mobile phone and uploaded.
8.The background has to be plain and the video should not be shaky.
9. No props are to be used.
10.Results will be notified through email based on the evaluation of the judges whose
decision would be final.
11.Calls to ascertain the results will not be encouraged.
12.Results will be published in the event page.
13.Judges decision will be FINAL. Discussions about the results will not be encouraged at
any cost.
14.Students are requested to strictly abide by the rules to avoid being disqualified.
1. It is MUST to register for this contest. For registration, parents can contact via –
whatsapp (9003367830) or over phone, giving their email id.
2. The following details must be provided during registration:
Student's Name
Parent's Name
Class
School
Email id
Mobile Number
3. Once the details are provided, a registration number will be shared to the parent within 3 working days.
4 The story narrated by the children should be video recorded and send to us through Whatsapp along with the Registration number.
5. Timelines: Upload of videos between 1st June and 15th June 2018.
Kids Online Carnival by DN CREATIVE KIDS 2018