Summer break is a time where both parents and kids gets stressed. The reason for this is climate for kids & how to engage kids is stress for parents.
So Mahaa Vishnu Academy have planned to have planned to stress reliver for both Kids & parents by introducing a summer camp named as Big Boss Camp & Baby Boss Camp.
This is not only an opportunity to make kids out of gadgets but also few more things such as
Developing in child with social & emotional Development.
Promoting independence
A chance for reinventing themselves at camp.
Time Management.
Nowadays these camps are called enrichment sessions, which help the child explore new ideas and cultivate new interests which a regular school curriculum does not provide. So, make your kid to be a part of this Big Boss Camp & Baby Boss Camp.
The different camp activities according to age :
Baby Boss Camp (Skill Based Camp):
Age Group : 3 yrs to 6 yrs
Fees : Rs. 3000/- (1 day Class charges Rs. 250/-)
● Clay modelling
● Western Dance
● Action Song
● Theatre Activity
● Coloring / Drawing
● Craft
● Story Telling
● Hand Writing
Big Boss Camp (Activity Based Camp)
Age Group : 6 yrs to 15 yrs
Fees : Rs. 5500/- (1 day Charges Rs. 450/-)
● Hand Writing Improvement
● Yoga
● General Knowledge Class
● Theatre Activity / Drama
● Kutties kitchen
● Craft
● Cartoon Movie Entertainment
● Drawing
● Western Dance
● Jewellery Making
● Painting (Glass, Pot Painting, Zardosi, Fabric, Acrylic)
# All courses are conducted by Professionals
# Materials we will provide
# Attractive Prizes for Daily Attitude
# Air Conditioner Class Room
Days :
1st Batch : April 2nd to 14th
2nd Batch : 16th to 27th
3rd Batch : May 1st to 15th
4th Batch : 16th to 30th
For further Details Contact :
D. Kamakshi 9884733018 / 9566183778 Mrs. R. Chandrika : 9080483630
Venue : R. A. Puram, Chennai – 28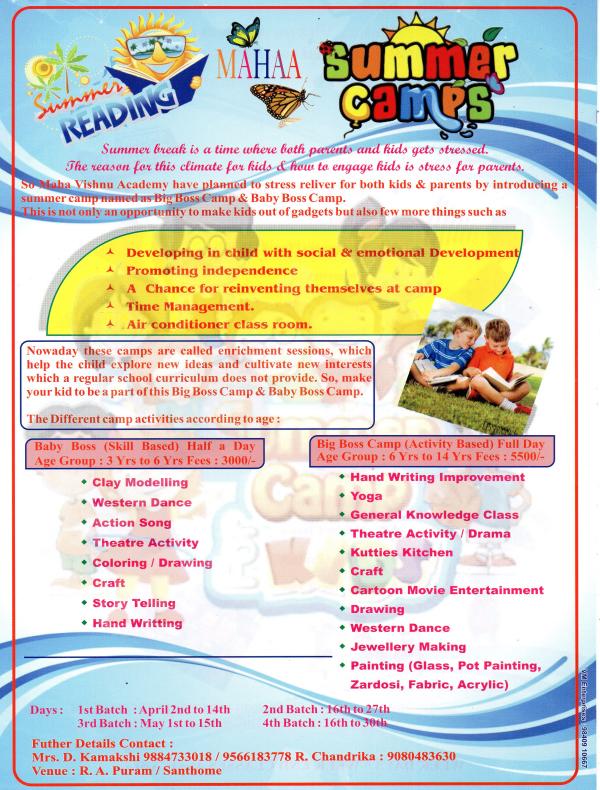 SUMMER CAMP 2018 : Big Boss Camp & Baby Boss Camp