Arise n Shine proudly presents Destination Summer. Destination Summer takes your children into a whole new experience this summer where they will discover and explore the world. Your children don't have to go miles away from home to experience the best from around the world; we have the perfect getaway ready.
We have chosen 6 exotic destinations worldwide- USA, Italy, France, India, Japan, and Brazil to bring each culture alive right at our place.
Each country offers a unique schedule, created to give children the best multicultural experience.
Few Attractions/Activities- World Chef, Beat The Heat, Happy Feet, The Art Box, Lets Talk, Art of Living, Friday Fiesta, Roundabout Field Trip, Kids Karaoke, Hello Sunshine, Indoor Camping, Mini Olympics, Café Fun, Yard Sale.
Every child will receive a Camp badge, Camp Bag, and Camp Certificate upon signing up.
You can choose to be a part of the two-week, three-week, or four-week packaged experience!
The camp has age groups of 2-4 Years, 5-8 Years, and 9-12 Years with the timings 9:30am-12:30pm.
Camp Dates:
April 2018: April 16th, 2018 – April 27th,2018 ( This camp lasts for two weeks)
May 2018: May 2nd, 2018 – May 30th, 2018 ( You can choose to be apart of the two-week, three-week, or four-week experience)
Camp Venues and Contact Details:
Arise 'n' Shine Anna Nagar East Center: No 14, Y Block, 3rd Street, Anna Nagar East. (9840570309)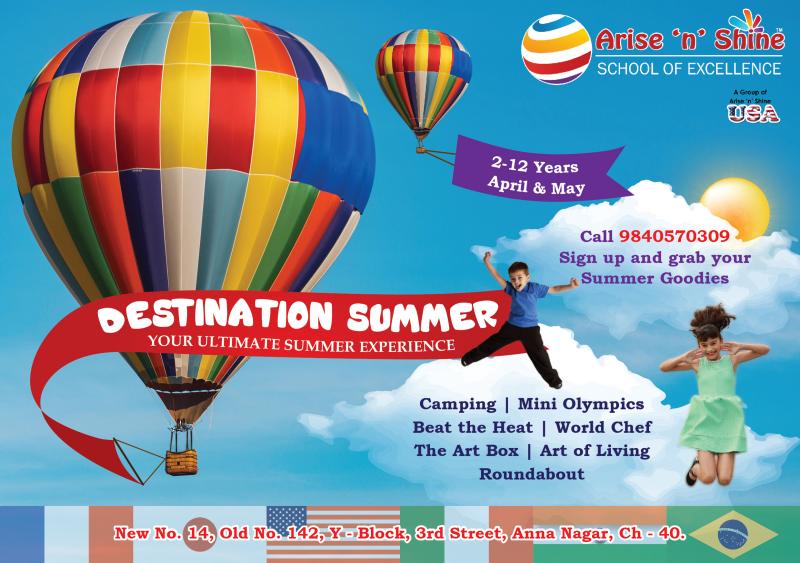 Arise 'n' Shine Periyar Nagar Center: C 87/6, 14th Street, Periyar Nagar. (9840562223)