Greetings from Velammal Cricket Academy,
On behalf of the Velammal Family,
We cordially invite you for " THE 11th RAHUL DRAVID INTER-SCHOOL T-20 CRICKET TOURNAMENT-2018" Organized by Velammal Cricket Academy at Velammal knowledge Park, Ponneri.
From 16th to 28th April 2018.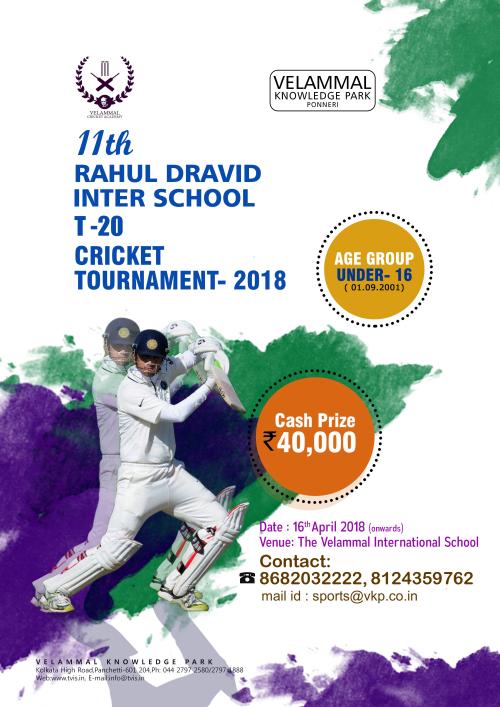 We look forward for your enthusiastic participation and kind cooperation to make the tournament a grand success.
Please send in your entries and confirmation email to sports@vkp.co.in
Venue:"The Velammal International School"
Velammal Knowledge Park, Kolkata High School,
Panchetti, Chennai-601 204.
Register on or before : 28.03.2016
TVIS "RAHUL DRAVID CUP" INTER SCHOOL T20 CRICKET TOURNAMENT
11TH EDITION – APRIL 2017 RULES AND REGULATIONS
i. The tournament is TVIS "RAHUL DRAVID CUP" – 2018, 11th edition.
ii. Bonafide Students born on or after 01.09.2001 are only eligible to participate.
iii. All the matches will be played in Kapil Dev Ground and Terry Fox Stadium Grounds in The Velammal International school campus and The Velammal Institute of Technology (on Turf and Matting Pitches) Ponneri.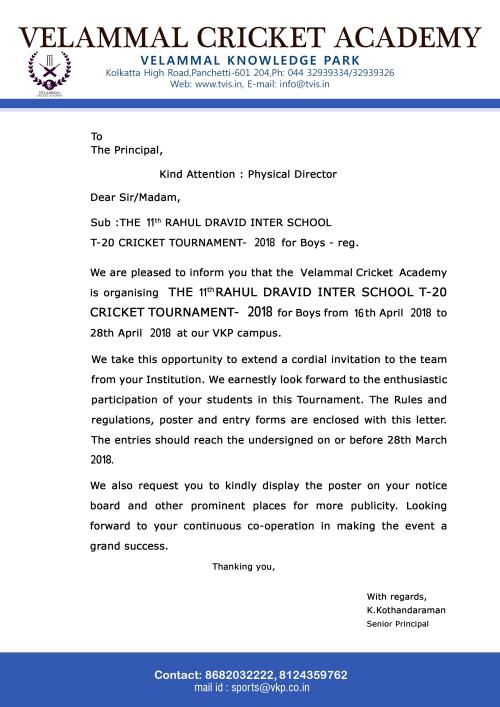 iv. Totally 32 teams participate & will play each other on knock out basis.
v. In the event of a TIE in any match, a super over will be conducted to decide the winner of that particular match.
vi. Minimum 12 overs a side constitutes a match throughout the tournament.
vii. No bowler is allowed to bowl more than 1/5th of the total overs.
viii. Field restrictions: A 30 yard circle is drawn outside which not more than 2 fielders shall be positioned during the 1st six (6) overs of any innings. During non power play overs, not more than five (5) fielders shall be stationed outside 30 yard circle throughout the innings. On default, Striker's end Umpire, shall call & signal No-ball.
ix. For all types of No Balls, Next Ball will be a Free Hit Ball, out of which either batsman shall be out only by ways of Run out, Handling the Ball, Hitting the Ball twice and Obstructing the Field. Field can be changed only on Strike Change.
x. There shall not be more than 5 fielders on the onside, anytime during the match.
xi. Two matches per day; 8am to 11.30am & 1pm to 4.30pm will be conducted.
xii. The duration of a match will be 3.30 hours, including change of innings.
xiii. Alum tanned Leather balls for matches shall be provided by the Organizers.
xiv. The timings for the 1st match are as follows:
8am to 9.30am = 1st inngs.
9.30am to 10am = interval bet.inngs.
10am to 11.30pm = 2nd inngs.
The timings of the 2nd match are as follows:
1pm to 2.30pm = 1st inngs.
2.30pm to 3pm = interval bet.inngs.
3pm to 4.30pm = 2nd inngs.
Throughout the tournament, Teams bowling first should complete their quota of 20 overs within 1hour and 30 minutes, unless the opponents are all-out earlier. In case of default, they have to continue till they complete their quota of 20 overs if their opponents do not get all-out earlier, but they will get to bat only the number of overs they have bowled within 1 hour and 30 minutes. An over in progress at the cessation time shall be calculated as an over bowled for the purpose of this law.
xv. Over rate calculation for reduced over matches shall be based on, 4.2 minutes per over for the time available to play, giving 10 minutes allowances for interval between innings considering the total match duration to be three hours and 10 minutes.
xvi. The run rate to be taken into account, in case of matches where the team batting second does not get their full quota of overs shall be: the runs scored by the team batting first divided by total quota of overs allowed for them. The team batting second should have batted a minimum of 12 overs to constitute a match.
xvii. Any short-pitched ball, which passes or would have passed the striker above his shoulder height in his normal standing position, shall be limited to one per over. In the event of more than one being bowled in the same over, the Umpire at the Bowlers' end shall call and signal No-ball.
xix. Any full pitched ball which passes or would have passed the waist height of the striker in his normal standing position, shall be called and signaled No-Ball by either umpire.
xx. The MCC Code of conduct will be followed apart the above playing conditions throughout the tournament.
xxi. Awards for Player of the match for all matches, Best Batsman, Best Bowler, Best Wicket Keeper, Best Fielder, Best All Rounder and Player of the Series are given.
xxii. Entry fee for participation is Rs.1000/- only and should be handed over to Mr.Ulaganathan, Organizing Committee, before commencement of your 1st match.
xxiii. Kindly reach the list of players duly signed and attested on or before 7th April, in view with updating for on line scoring.
xxiv. Postponements of matches will not be encouraged throughout the tournament, since lots of efforts are taken from our side for providing transportation.
xxv. For any clarifications Member-in-charge of respective teams shall contact S.Sathishkumar at 98412 96056, if not in person.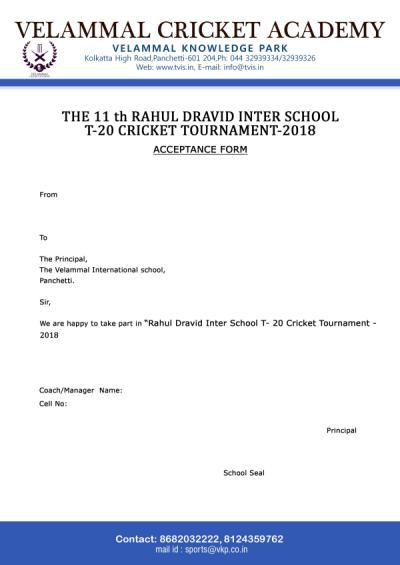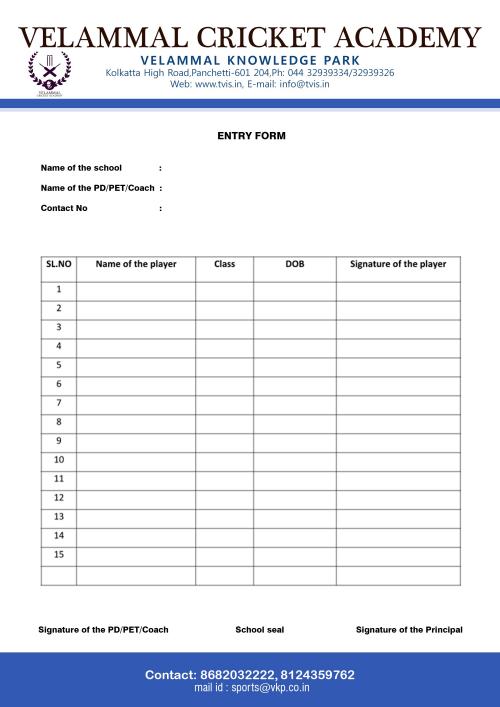 11th RAHUL DRAVID INTER-SCHOOL T-20 CRICKET TOURNAMENT-2018