National level Painting & Drawing competition organized by CDAC Hyderabad.
Information Security Education and Awareness,Ministry of Electronics and Information technology(MeitY), governemnt of India invites applications from VI to X standard students from all the reconized State/Central Government schools (State/CBSE/ICSE/NCERT) across the country to participate in National level Painting & Drawing competition.
Theme : Internet Security,Mobile Security,ATM Security,Browser Security,Social Networking
Last Date of Submission : January 31st , 2018
Address:
Centre for Development of Advanced Computing, (C-DAC)
Plot No. 6 & 7, Hardware Park, Sy No. 1/1, Srisailam Highway,
Pahadi Shareef Via Keshavagiri (Post) Hyderabad – 501510
Email: isea@cdac.in
All entries must be on the above theme only. Each participating school would select best three paintings irrespective of the classes and age group and send it to C-DAC Hyderabad before the due date.
These best paintings may be selected at school level by the School Head Masters/Head Mistress/Head of the Institutions or concerned authorities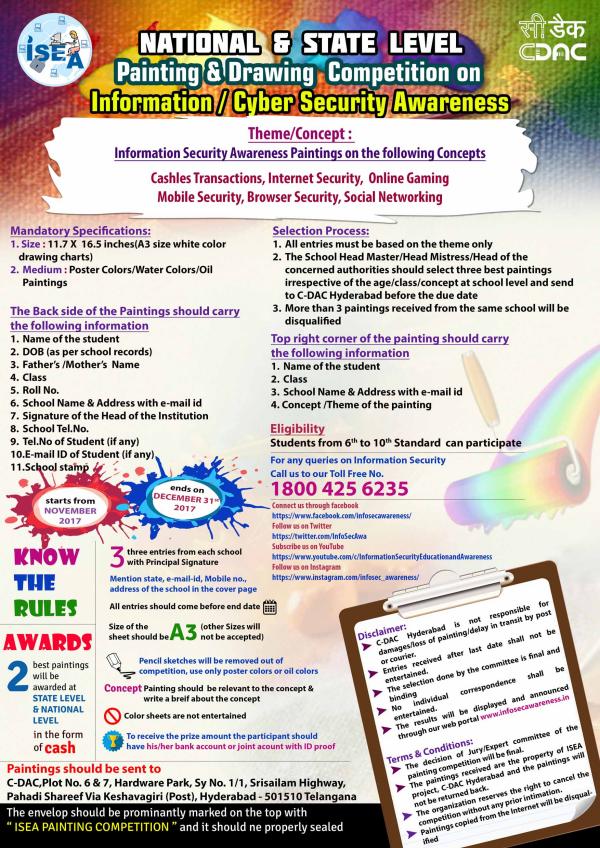 National level Painting & Drawing competition organized by CDAC Hyderabad