Due to popular demand and request from many parents, as some schools are yet to decide and it is taking Vibha Schools have decided to continue the competition wherein you can go through VIBHA SCHOOLS for First Level for which details are given below ; moreover due to the overwhelming participation the total prize money is increased from Rs 5,00,000 to Rs 10,00,000 (ten lakhs)
Dates : From 3rd September to 30 th September 2017
Results for first level will be announced during November 2017
DEAR. ALL
Hi,This is"VIBHA SCHOOLS"happy to invite to you the 10 th year
Event Title: ALL INDIA ART TALENT SENSATION 2017-18
Drawing | Essay Writing | Handwriting
(CASH PRIZES WORTH MORE THAN RS. 10,00,000/- TO BE WON
Identifying the hidden talents from KG to 12th Grade Its National Level.
VIBHA SCHOOLS is providing a Big Stage for your Children to Express their Inner and Unique Talents.
Help them to participate in as many events as possible.
Give your child the proud of participation and not Winning. Let them FLY.
Competitions are Drawing / Handwriting & Essay writing
Event starts from 03-JULY 2017 onwards
Event Ends during 28- February 2018
We invite Judges, Volunteers, & Sponsors.
Donation for Trust development are accepted from Interested persons.
All participants can donate for trust development
* One Event @ 150/- |
Application Form Donation @ 50 /-
for more details
Contact.
9940098980 / 9962272688
vibhaschools@gmail.com
https://www.youtube.com/watch?v=yTM-vGUu1gk
https://www.youtube.com/watch?v=J4-zWXT_ezk
Event Venue :
VIBHA SCHOOLS
(A Unit of V B Y K K)
2/3, Visalatchi Street,
Bala Vinayagar Nagar,
Arumbakkam, Ch-106.
9962272688 / 9940098980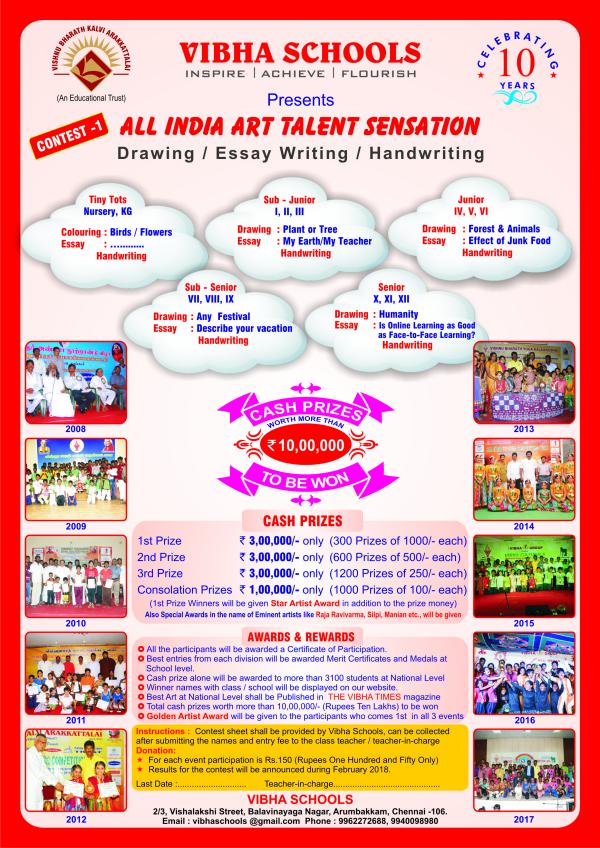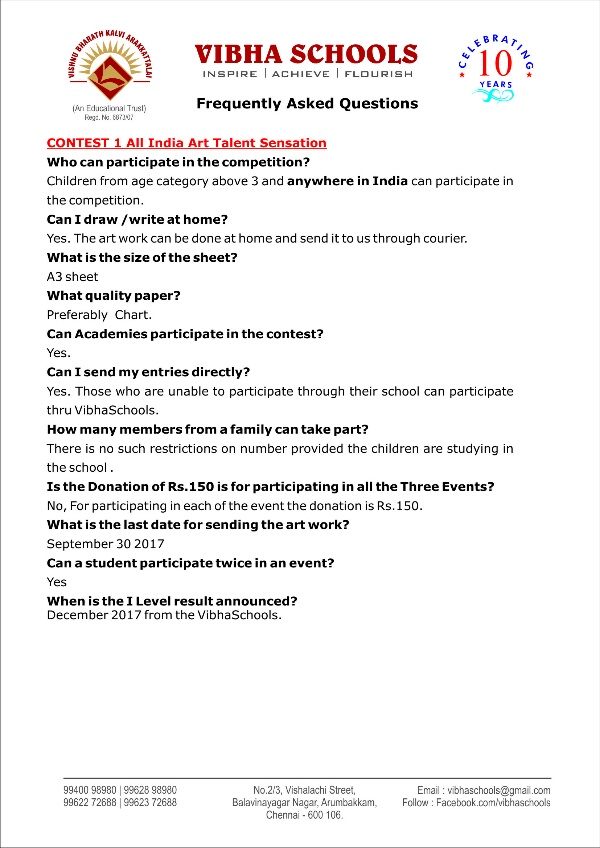 ALL INDIA ART TALENT SENSATION 2017-18