3rd Zonal Level ABACUS, DRAWING & DANCE Competition 2017
On 8th Oct, 2017 at Cuddalore.
Fees: ABACUS -Rs.350, DRAWING – 250, DANCE – Rs.200
KITE – 2017
Participants from 8 districts.
If your students wish to join in this event make them to practice for SUCCESS

Further Detail:
THE MULTI DEVELOPMENT CORNER
No.190, Bodi Chetty St,
Thirupapuliyur,
Cuddalore – 607002.
Phone : 9944970106
Whatsapp : 8608161610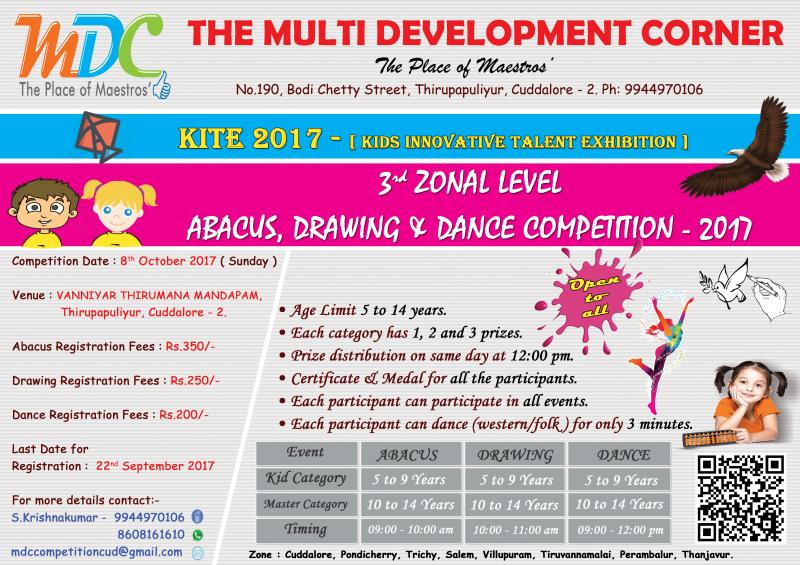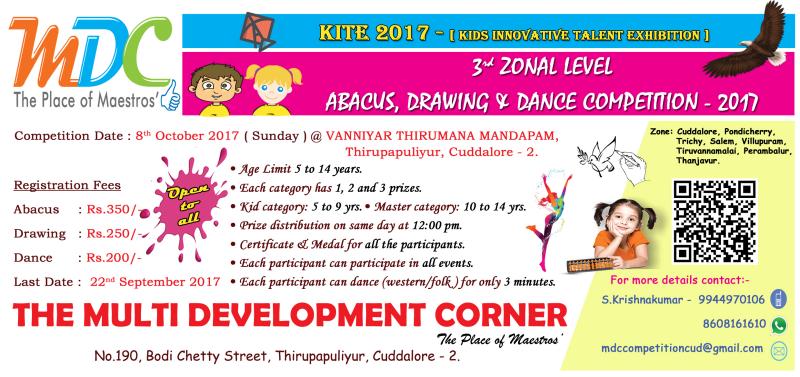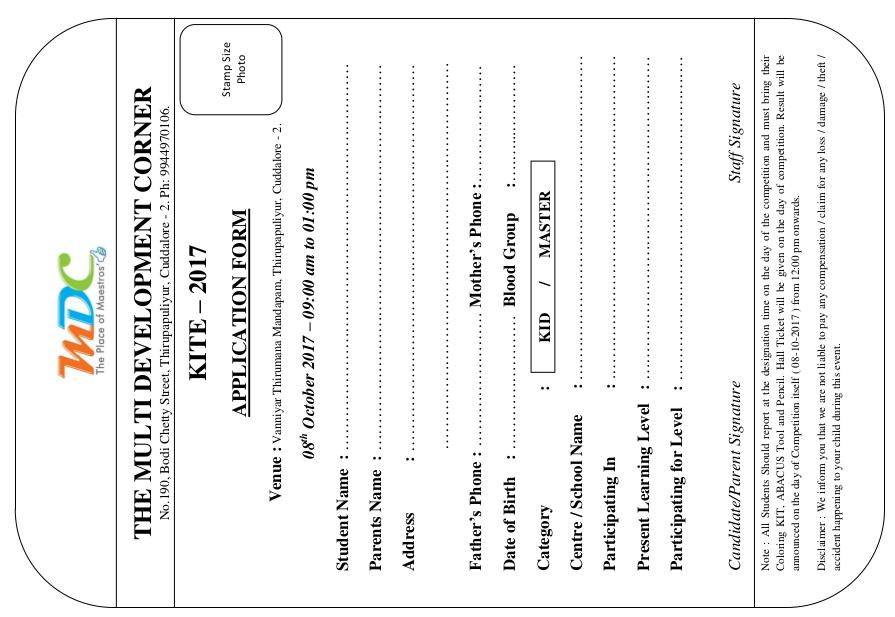 KITE – 2017
[ Kids Innovative Talent Exhibition – 2017 ]
Open to all (Not only our kids, but kids from other institutions also can take part.)
Basic Information
ABACUS :-
Number of Levels is from Bud to 8 th Level Abacus – Timing: 7 Minutes.
Mind Abacus: 3 rd to 8 th Level.
Abacus users should bring their ABACUS tool kit, pencil and eraser.
A student should appear only in one level.
Last attended Level Certificate is compulsorily needed for all the Abacus students.
DRAWING :-
Kid Category, Topic is CARTOON WORLD or MY DREAM HOUSE.
Master Category, Topic is VILLAGE SCENARY or BEACH – A LIVELY VIEW.
Timing : 30 Minutes
Drawing users should bring their pencil, eraser and coloring kit.
Only A4 chart will be provided for the candidates.
DANCE :-
Solo Western or Folk Dance. Timing: 3 Minutes,
SONG should be submitted through mail before (27-09-2017).
Our Email ID: mdccompetitioncud@gmail.com.
Song, Dance and Costume should not be vulgar.
Bring your song through pen drive for backup.
Save your mp3 file as: first four letters of your name & your date of birth. Eg:- aish22022012.mp3
Common Instruction: –
Age Limit – Kid Category 5 to 9 years.
Age Limit – Master Category 10 to 14 years.
Each Event fees should be paid along with the application form without Fail.
Each Candidate can be able to participate in all events.
All the applications should reach us on or before the date mentioned below or it will be strictly rejected.
Hall ticket will be given on the day of competition.
Applications that are not filled with full details will be discarded.
Results will be announced on the day of competition itself (08.10.2017) from 12.00 pm onwards.
The certificate and medal will be given for all the participants.
Each Category has 1 st , 2 nd & 3 rd Prizes.
Age proof and Identity proof is compulsorily needed for all the students.
Last date for submission of application form is 22-09-2017, Friday.
Zone : Cuddalore, Pondicherry, Trichy, Tiruvannamalai, Villupuram, Perambalur, Salem & Thanjavur.
If you are interested, please collect and send the application forms.
Our main purpose of organizing this competition is to develop a competitive spirit as well as to display the spirit of togetherness among the children. It is also a good opportunity for kids to exhibit their talent in this zonal competition. Like kids and parents, we are equally excited and looking forward to meet you all in this event.
Once again, we cordially invite everyone for our KITE- 2017.
Keep practicing and ALL THE BEST for all the kids!!
Meet us at: Vanniyar Thirumana Mandapam, Cuddalore.
Warm greetings and best wishes to everyone!
Regards
S.Krishnakumar, 9944970106 / 8608161610
"Paid Food Stalls Available" – (Utilize if you wish)
3rd Zonal Level ABACUS, DRAWING & DANCE Competition 2017