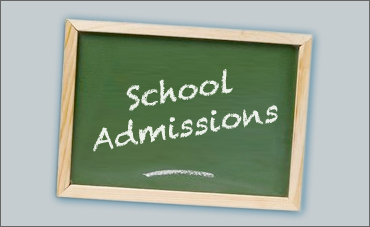 The LKG / Pre KG admissions started in Chennai now. Time for parent's worries. No uniform time for application issue, admission process. Parents run from pole to post to get their child admitted into the top schools. You can see long queues in front of some school gates on the application issue dates. Many schools have made their application issue online. Thanks to them!!!!
At least we could save some time and energy. Many schools consider distance from school to the kid's home as a major criteria. It is good, as our kids need not travel long to reach their school daily.
Parents should be ready to give their address proof to the schools. Ration Card, Driving License, Gas connection receipt etc. may be accepted as address proof. Here comes the problem for many, who might want to shift to a home near to the school after confirming the admission. They may not be able to provide the address proof. Many times, we will not be knowing on what basis a child is accepted and rejected by the schools.
An interview with a two and a half year old child should not be a criteria for admission. How can the authorities know the child's true potential at that age. A personal experience with the school admissions 5 years ago gave real head ache to a parent. A staff member from a particular school told her to train the child not to open the chocolate given to her by the teacher in the interviewing room. They expect the child to just take the chocolate and keep it with them until the interview gets over. But the child immediately went to her mother with the chocolate and asked her to open it for her. 🙂 🙂
Keeping date with the admissions in various schools is a problem for many parents. As per the directives of the CBSE, many CBSE schools is the city are delaying their admission process to February. This is to keep it uniform with the other boards admissions. Good !!! Some of the most sought after schools will be getting a large number of application forms, from which they have to select only a very small number for the Kindergarten classes. Don't understand why they issue such large number of forms if the number of seats are limited. Again blame on the parents. Everyone wants their kid to be in a prestigious school. Schools can't help.. They will issue forms.. we need to wait anxiously for the results.
But many schools have now shifted to online registration for admission. It removes the queues in front of the schools from previous night itself. Very convenient for parents too. Hope it works out best for the young parents and the kids.
By: Meera, Chennai
School Admissions in Chennai