Practical Science Quiz 2016-17 – Inter School Quiz Competition.
Bangalore's Biggest Inter-School Quiz Competition
Practical Science Quiz is a National Level Science and Quotient test designed to help children and schools analyze, assess and enhance the knowledge of Science in India. This is an initiative from ScienceUtsav that aims at bringing about Practical thinking approach in school going kids. Prizes up to 75,000 INR to be won along with several gifts and accolades.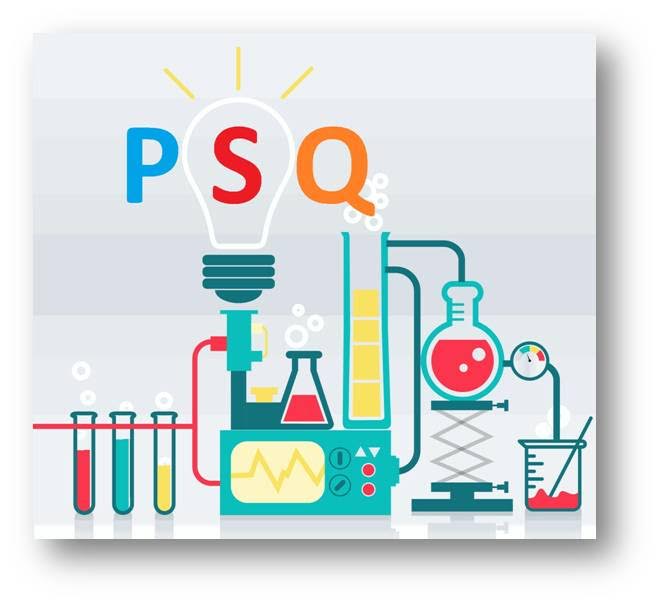 ELIGIBILITY & EXAM PATTERN
1. PSQ is open to students from grade 4 to Grade 9
2. Each student has to register through their school only. Individual entries are not allowed. In case the school is not participating in the Quiz; students are allowed direct entry at additional costs.
3. Both Levels will be held in written format. The Question paper is divided into 3 sections,
a. General Science as per grades (CBSE/ICSE Syllabuses)
b. Logical Reasoning
c. Aptitude
4. A nominal registration fee of INR 150 is applicable.
5. There are separate question papers for each class.
6. The medium of the test is English
7. CBSE, ICSE/ISC and state board syllabus is followed fit setting the test papers.
The examination is held in three Levels. Level 1 is a competency Test and Level 2 is the Inter-School written Quiz followed by Level 3 which is a staged Practical Quiz Competition between the top 5 scoring students of Level 2.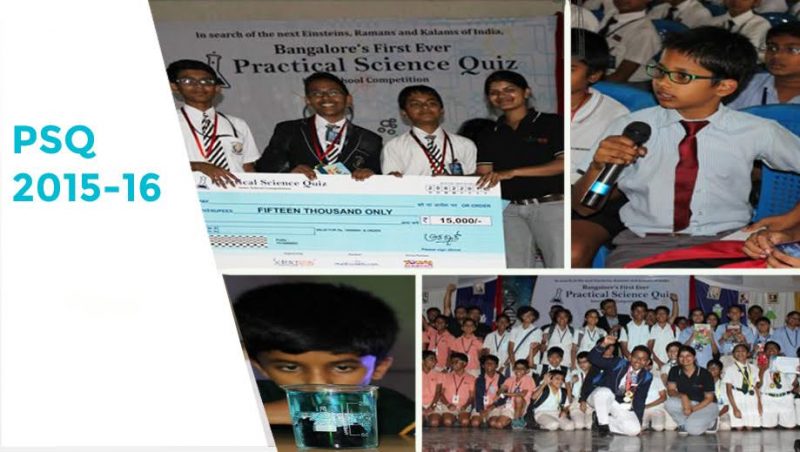 REGISTRATION
The level 1 will be conducted on the 27th of November 2017 and the Level 2 is on the 8th of Jan followed by the Grand finale on the 4th of February.
Registration for Level 2 is based upon a minimum scoring at Level 1
Registration fee for PSQ is INR 150 per student
Please fill out the online registration form or you could avail the same by sending an email to psq@scienceutsav.com or bangalore@scienceutsav.com. Last date for registration for schools is 5th of Nov 2016 and for Direct entry students is 22nd Nov 2016.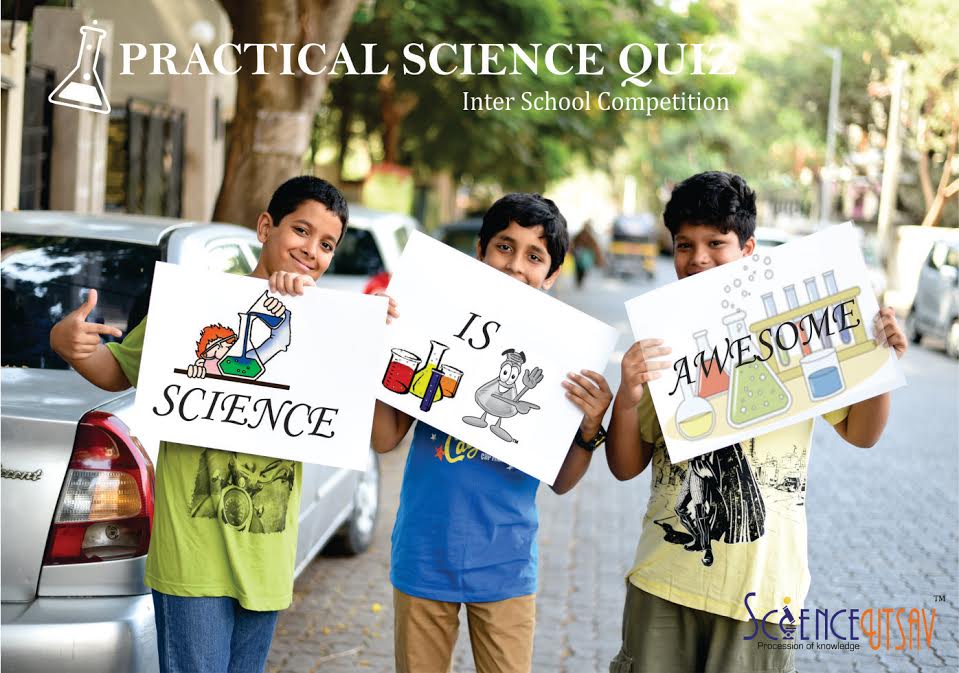 AWARDS
Winner Grand Prize is a Cash Prize of INR 5000
Runner Up gets a cash prize of INR 3000
Best Performing School will be entitled for a Grand Cash Prize of INR 5000
Best Performing School – Runner Up will be entitled for a Grand Cash Prize of INR 3000
All participants of Level 2 will be awarded with Participation certificates.
Winner and Runner Up prize is awarded class wise.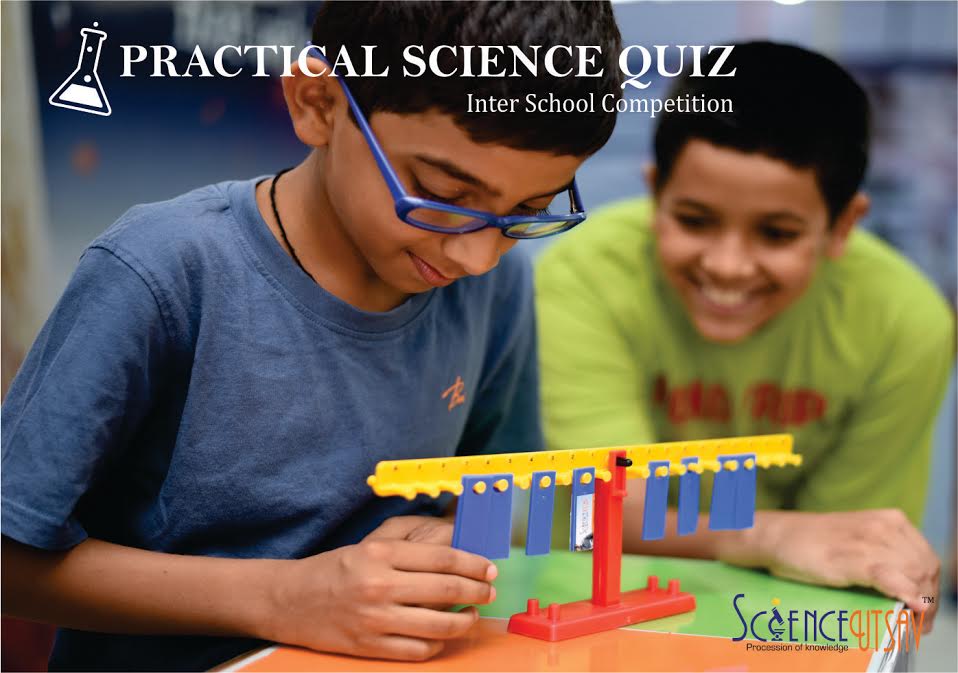 The Result will be announced on ScienceUtsav website in February 2017. The Accolades will be sent to the schools by the end of February 2017.
Any schools wanting to become a registered examination centre for PSQ 2016-17 can write to us at bangalore@scienceutsav.com
To avail registration forms and further details please contact at:
Akshay – 9035216555
Supreetha – 9036216333
psq@scienceutsav.com
www.scienceutsav.com/Practical-science-quiz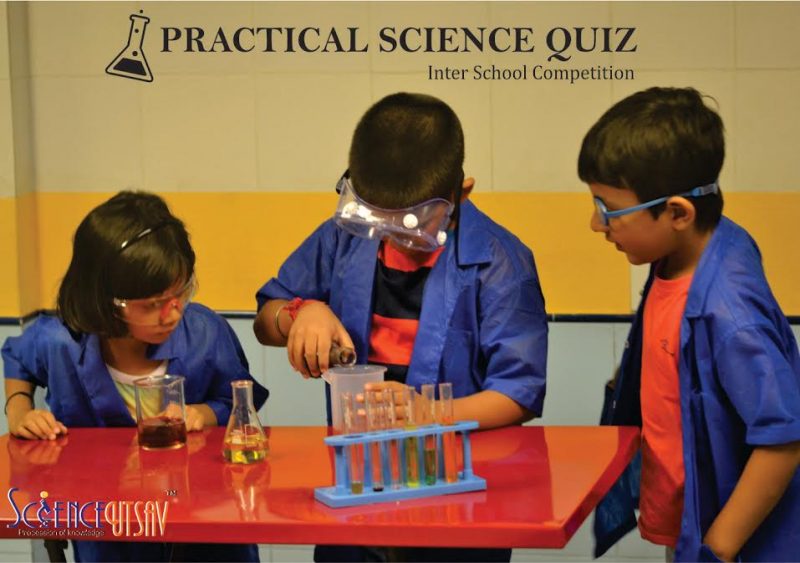 Practical Science Quiz 2016-17 – Inter School Quiz Competition