Dessin Academy Painting Competition for Children on June 25, 2016.

The 'Dessin Academy' is 12 year old Chennai based art school having about 50 branches all over Tamil Nadu and also in Andaman & Nicobar Islands.
We are organising a drawing and painting competition to challenge the artistic skills for children studying in class L.K.G to VII std.Prize Winners will get a certificate, a shield and a cash prize. We request you to send your students for the same.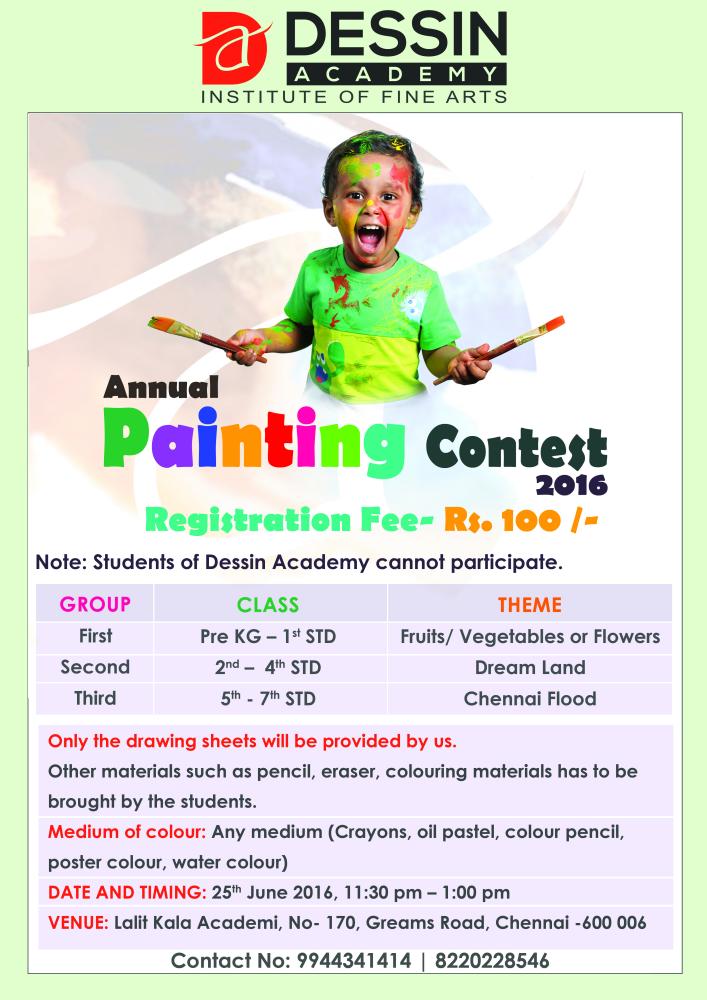 Registration Fee:Rs.100
Dead line For Registration: 24th June, 2016
To Register – Send SMS – student Name, Class & School name to 9944341414
For further Contact- 9944341414; 8220228546
Only the drawing sheets will be provided by us.
Other materials such as pencil, eraser, colouring materials has to be brought by the students.
Medium of colour: Any medium (Crayons, oil pastel, colour pencil, poster colour, water colour)
DATE AND TIMING: 25th June 2016, 11:30 am – 1:00 pm
VENUE: Lalit Kala Academi, No- 170, Greams Road, Chennai -600 006
1. Students must bring their own colouring materials (Colour pencils, Crayons, Oil Pastels, Sketch Pens, Water Colours, Poster colours).
2. Drawing Sheet will be provided by Dessin Academy.
3. Results will be announced on July26th, 2016.
4. Note: Students of Dessin Academy cannot participate.