Champs Academy invite parents to bring their children (LKG – Grade 4) to participate in KIDS CARNIVAL to be held on 26th January 2016, Tuesday from 9 am to 5 pm.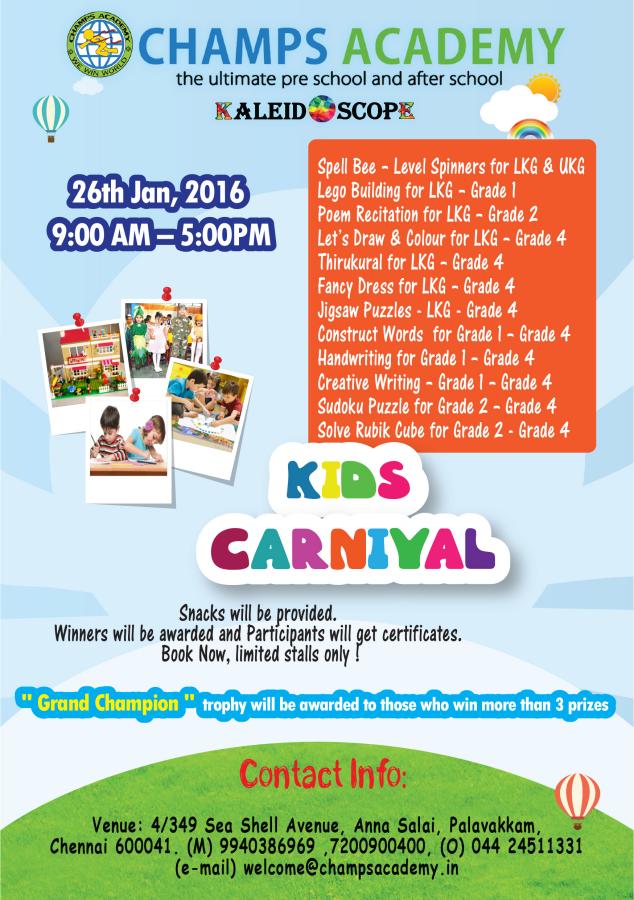 The competitions will be held for the events SPELL BEE,LEGO BUILDING,POEM RECITATION,LETS DRAW AND COLOUR,THIRUKURAL,FANCY DRESS,JIGSAW PUZZLES,CONSTRUCT WORDS,HANDWRITING,CREATIVE WRITING,SUDOKU PUZZLE,SOLVE RUBIK CUBE.
Winners will be awarded and participants will get certificates!
Snacks will be provided for participants.
"Grand Champion" trophy will be awarded to those who win more than 3 prizes.
Registration fee : Rs.200/- for one event. Avail discount on registering more than one event.
Last date of registration : 23rd January 2016
Venue:
Champs Academy
4/349 Sea Shell Avenue
Anna Salai,Palavakkam
chennai-41
(M)9940386969 , 7200900400 (O)044 24511331
(email)welcome@champsacademy.in