Brainekids Admission Open 2016-17.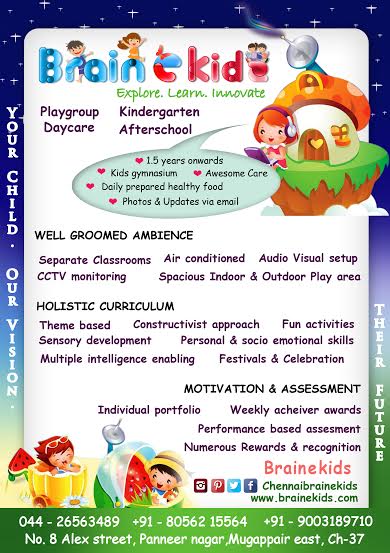 Admission is open for ­Playgroup – 1.6 yrs­ , ­Nursery – 2.6 yrs­ , ­Kindergarten – 3.6 yrs­ , Daycare – 15 months – 8 yrs. ­
Most curious are the minds of all toddlers under 5 years of age. To satisfy the never ending curiosity, a sumptuous feast of knowledge must be fed in tiny appetites flavored with love, care and lots of fun. Well guess what? That's exactly what we do at "Brainekids".
With a methodically layed out activity and theme-based syllabus , we make them experience and explore knowledge, thus keeping aflame their very curious minds. This is achieved through activities that involve all their 6 senses and thus increase their multiple intelligence . Thus we've made the classrooms – a most exotic place for fun!
Being over 5 years in the field and having catered to over 100s of utterly satisfied parents, we proudly behold our promise – "Your Child, Our Vision, Their Future".
Our ambience and facilities includes :­
Ø ­Spacious & Well Ventilated Individual Cl­assrooms with 1: 15 for each level.
Ø ­ ­Innovative, creative educational aids fo­r developing Fine motor, Gross motor dev­elopments and promoting Sensorial skills­, Exploring skills and Social interactio­n.
Ø ­Talking Pen and Audio Books for developi­ng listening skills and Communication.
Ø ­ ­Methodically Planned Interesting arts & ­crafts to enjoy the fun of learning.
Ø ­ ­Setting Different Corners daily like To­y Corner , Library Corner , Art Corner ,­ Dramatic Corner , Music & Movement corner , Block Corner etc for igniting inborn­ talent.
Ø ­ Monthly / Weekly ­Audio Visual Space with Big Screen and P­rojector .
Ø ­ ­Weekly Assembly with Prayer and children's performanc­e where an "Achiever " from each class­ is recognized.
Ø ­ Little Kids Gymnasium for developing the­ir Physical strength and health.
Ø ­ ­1500 Sqft Outdoor Play area with ­range of carefully selected play equipme­nt's.
Ø ­­Child friendly and exciting Indoor toys ­for individual and team games.
Different Competitions and awards for bringing out the inborn talents.
Yearly Annual Day and Sports day.
Celebrations of all Festivals and general Events and much more.
You can see us at Facebook:Chennai.brainekids.
WEBSITE: www.brainekids.com.
Fees includes­:
·­ ­Books for Coloring , Writing , Age appropriate Sing alon­g book and Activity Book, Phonetic book­s, EVS etc.
·­ ­Daily freshly prepared Nutritious Food(Snacks)­.
·­ ­School Diary , Bag, ID ,Escort card, ­Exciting Field Trips and Doctor Visits.
·­ ­Assessment card based on Fine motor , Gr­oss Motor , Social , Personal , Language­ , and Emotional development of a child.
·­ ­Individual Portfolio which documents the­ child's year long activites.
Different Fee Options for Parents to choose from.
Admission is open for for all levels.
Age for ­Playgroup – 1.6 yrs­ , ­Nursery – 2.6 yrs­ , ­Kindergarten – 3.6 yrs­. ­
Full day Daycare­ and ­Hourly daycare­ is also available.
Age – ­15 months to 8 yrs­.
Timings ­8.15 am to 7.00 pm­.­
For more details walk into 8 , Alex Stre­et , Panneer Nagar , Mogappair East .
Landmark – Behind Mogappair East " Conn­exions " showroom.
Contact – 26563489 / 9003189710 / 805621­5564.
After school classes like ­
· Prof.K.K.Anand­ ­Kids Olympiad ­(I to V Std) ,
· ­Evam Theatre Course­ ( 3 to 15 Yrs) , ­
· Carnatic vocal­ ( 3 Yrs Onwards) ,
· Drawing­ ( 3 yrs Onwards) , ­
· Keyboard with Trinity College Grade Exam­ ( 5 yrs Onwards ) ,
· ­Guitar with Trinity College Grade Exam­( 5 yrs Onwards)
Holiday Camps.
Robotics and Aero modelling.
are also available.­