All India Talent Scholarship Awards Examination is conducted by Children's Educational Trust (CETMSI) at around 250 centres in India and abroad.
The Students for this Award will be selected on the basis of evaluation of their performance in Written and Oral Tests in an All India Talent Search Examination. Students from India and abroad can take part in the examination either through their respective schools or directly.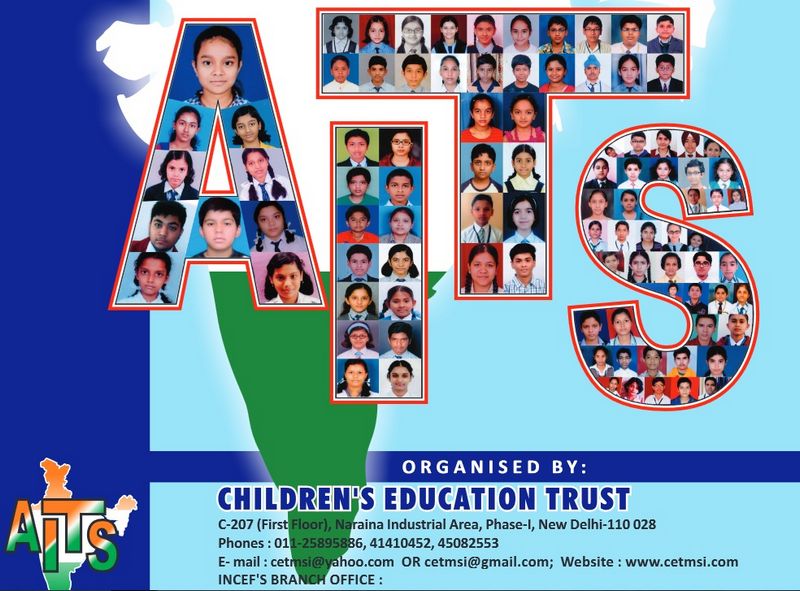 All India Talent Scholarship Awards Examinations are conducted by CETMSI as per the guidelines and responsibilities entrusted to them by INCEF( International Children's Equity Fund ) and the A.I.T.S. (All India Talent Scholarship Awards )Award Committee.
Children can participate in this examination under various categories:
Group A: Class V or VI
Group B: Class VII or VIII
Group C: Class IX or X
Group D: Class XI or XII
For those who are appearing through schools have to pay only the examination fee, while the individual candidates have to pay Exam Fee + Registration Fee of Rs. 50/-
Students Selected for the INCEF'S Scholarship Award under all Group will receive a Certificate of Brilliance from INCEF and a Cash Award, details of which are available in the Prospectus below.
For details of the examination, written tests subjects, Oral test details, application process, standards and syllabus for the exam etc. are available in the Prospectus : http://www.cetmsi.com/files/Prospect15.pdf
Children's Educational Trust Website : http://www.cetmsi.com/
All India Talent Scholarship Awards by Children's Educational Trust (CETMSI)