Kidovators​ 2014​ is a unique National-level challenge for school kids of classes 3 -​9​  aimed at testing their mettle and preparedness for real life in a fun-ducative manner.​ It has been hailed as India's most Innovative Challenge for School Kids.​
​Last year, first round of the challenge was held across​ 90 cities ​in India involving ​25,000+​ student​s​. ​The finals of the competition were organized in Bangalore where top 150 ​students (of Round 1) from all of India challenged one another. In the end, six students (one each of classes 3 – 8) were chosen as Champion Kidovators of India.
The Participation Fee is Rs ​2​50 per student and the payment can be made by DD ​/Online Payment only. Please note that the deadline of registration is 1​5​th ​August 2014. In case, you school wishes to qualify for the Early bird Offer, the registration deadline is 15th July 2014.​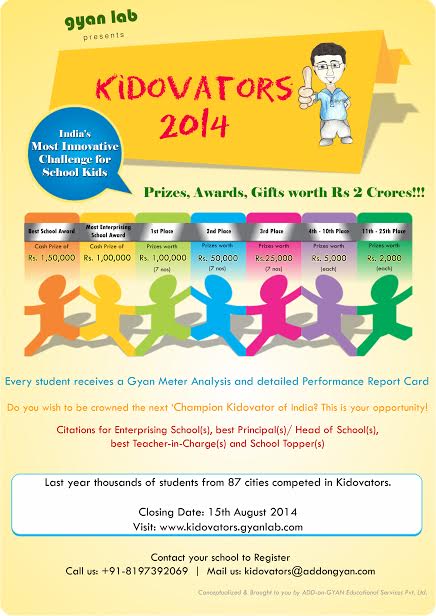 For more details on Kidovators 2014 visit: http://www.kidovators.gyanlab.com/2014/index.html#work
For schools / institutions: Registrations can be done by the schools using the School Registration Form, Student Details Form and ​Student Registration Forms in the attachment. We will also be sending the attached documents through courier to school for better facilitation.
Please call at +​91-​8197392069 or mail at ki​dovators@addongyan.com
Website : http://kidovators.gyanlab.com/
Facebook : https://www.facebook.com/kidovators
Twitter : https://twitter.com/kidovators