Summer Camp registrations are open for kids at Hansel & Gretel kids.
For Junior Campers (3-6yrs) activities include Dance, Story time, Craft, Creative workshop, Etiquette, Fireless cooking, Puzzles, Games and more.
For Senior Campers (7-12 yrs) activities include Puppet show(Prepare and show n tell), Public speaking, Brain Teasers, Community service projects, Fireless cooking, Creative workshop, Dance, Act it out and more.
For Pre teens and Teens (10-18 yrs) there are two advance workshops.
1. Advance Painting,a 20hr workshop such as Pithora on Hand made paper, Madhubani on cushion covers, Jamini roy paintings,and Gond Art(Tribal art from Madhya Pradesh)
2. Personality Development a 10hr workshop in which topics such as Positive attitude, Behavioral skills, Public speaking, Anger and stress management, dealing with peer pressure will be covered.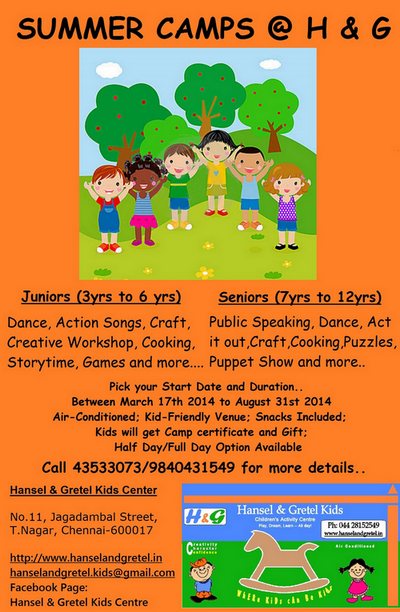 Time : 9AM TO 1PM.
Contact nos : 43533073/9840431549
Date : Any start date from March 17th onwards.
Customers can avail a discounted rate if registered on or before 15th March 2014.
Snacks, Juice and Materials are included.
Certificate and a gift will be given to all at the end of the camp.
Hansel & Gretel
A Fun Filled Activity Centre
11 Jagadambal Street
T.Nagar, Chennai 600017
Ph: 43533073/ 9840431549
Summer Camp 2014 at Hansel & Gretel kids