COME, PARTICIPATE IN THE CHENNAI BRAIN GAMES
24th and 25th August, 2013
SPELL BEE|CROSSWORD|PUZZLES|SUDOKU|CHESS|SCRABBLE|QUIZ|MENTAL MATH BEE
Venue: Hotel Bhimaas, Vadapalani, Chennai
Website: www.theephoenixacademy.com
Email: contact@theephoenixacademy.com
Contact : 9500046856,9500046821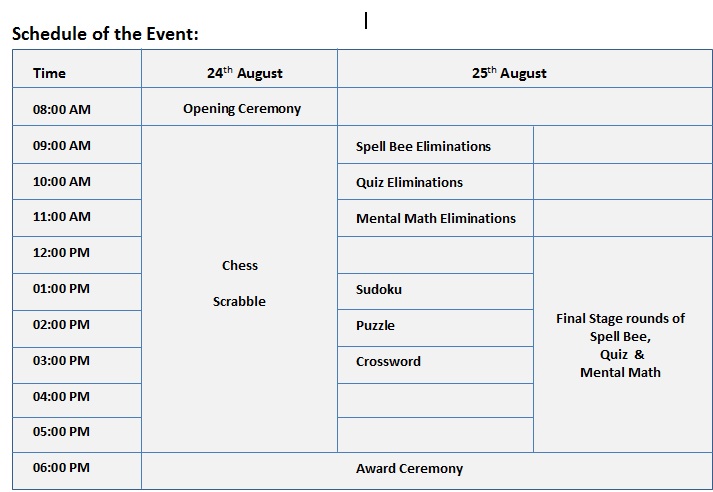 Registration Fees:
Rs.250 per event (For Spell Bee, Chess, Scrabble, Mental Math Bee and Quiz). for Under 8, Under 10, Under 12, Under 15, Under 21 Category
Rs 250 per event (For Spell Bee, Chess, Scrabble, Mental Math Bee and Quiz).  for Open Category
 Rs.250 per event (For Cross word, Sudoku, Puzzles)
 Prizes:          
            Prize Money , e-certificates, Individual medals, Team Trophy – School  Champions
24th August :
• Chess and Scrabble will be held simultaneously: You can participate in one of them.
25th August :
• If you are NOT participating in Spell Bee, Mental Math or Quiz; You can choose to participate in Crossword, Puzzles, Sudoku.
• If you are eliminated from Spell Bee, Mental Math and Quiz during the elimination round; you can participate in Crossword, Puzzles, Sudoku on the event day.
On submission of a physical registration form, make sure you receive a payment receipt, which has to be carried on the event day.
Last date of registration would be 17th August 2013 or the maximum limit of participation, whichever is the earliest.
Participants should carry their photo-id and age proof during the event.
In case of minors, their parents/guardian should sign accepting the terms and conditions mentioned in the registration form.
All the participants are requested to be present at the venue as per the reporting time.
In case of any help/queries during the event, please report to the concern authority or chief co-coordinator present at the venue.
For team game, one participant can register on behalf of the team.
There is no restriction on the number of Participants/ Teams a school can register.
None of the parties related to the event – Sport Consult, the sponsors, brand ambassadors or officials can be held responsible for any injury or death of a participant during the course of the event.
Organizing committee of Chennai Brain Games reserves the right to change any rules, dates and venues pertaining to the event at any point of time without any prior intimation
COME, PARTICIPATE IN THE CHENNAI BRAIN GAMES