Save The Frogs Art Contest 2013 is an international art competition that runs from January 15th, 2013 to October 15th, 2013.
People of all nationalities, ages and skill levels can enter this contest. SAVE THE FROGS! Art Contest invites you to create your coolest frog artwork.
The art works must be able to raise awareness of the amphibian extinction problem. The art works will be used on T-shirts, stickers, posters, coffee mugs, hats, and in greeting cards and books.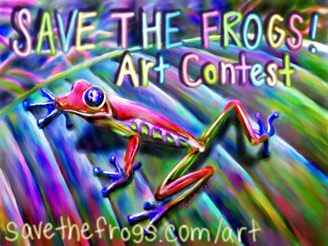 The Grand Prize Winner will receive $100 CASH (or check!), $75 worth of "Frog Cash" to be used for any of the cool  environmentally-friendly merchandise in the SAVE THE FROGS! Gift Center, become an official judge of next year's SAVE THE FROGS! Art Contest, see their winning artwork placed at the top the website for duration of their reign (until next year's contest winner is announced) and receive frog fame.
The 2nd and 3rd Place Artists will receive $75 worth of "Frog Cash" .
Grand Prize Winner and Category Winners may all see their artwork featured on products the organizers sell in the SAVE THE FROGS!
Age Categories:
(1) Under 10 years old
(2) 10-13 years old
(3) 14-17 years old
(4) 18 and older
Artwork can be hand drawn or may be created digitally. It can feature frogs, toads, salamander, newts or caecilians. It can be full-color or black & white.
For more details, rules and regulation of the contest, please visit : http://www.savethefrogs.com/art/index.html
Hand-drawn entries can be sent to :
SAVE THE FROGS! Art Contest
303 Potrero Street #51
Santa Cruz, CA 95060 USA
Digital entries can be sent electronically (in .jpg format ONLY) to art@savethefrogs.com with subject line Art Submission.
Save The Frogs Art Contest 2013