RAABA MEDIA GUINNESS WORLD RECORD EVENT
ALL TYPE OF SOLO TALENTS, ALL TYPE OF SPORTS AND ALL TYPE OF MARTIAL ARTS
VENUE : SRI KRISH INTERNATIONAL SCHOOL, KOVUR, CHENNAI.
DATE : AUGUST 23, 24 & 25
REGISTRATION FEES : INR 2000
ALL PARTICIPANTS WILL GET SHIELD, MEDAL AND CERTIFICATE
EVENT ORGANIZER : RAABA MEDIA'S EVENTZ INDIA
NON STOP DAY AND NIGHT EVENT
DON'T MISS THIS OPPORTUNITY
VERY RARE EVENT
RECORDED IN GUINNESS WORLD RECORDS, ASIA BOOK OF RECORDS & INDIA BOOK OF RECORDS.
CONTACT N0 : +918610168778
PLEASE REGISTER SOON.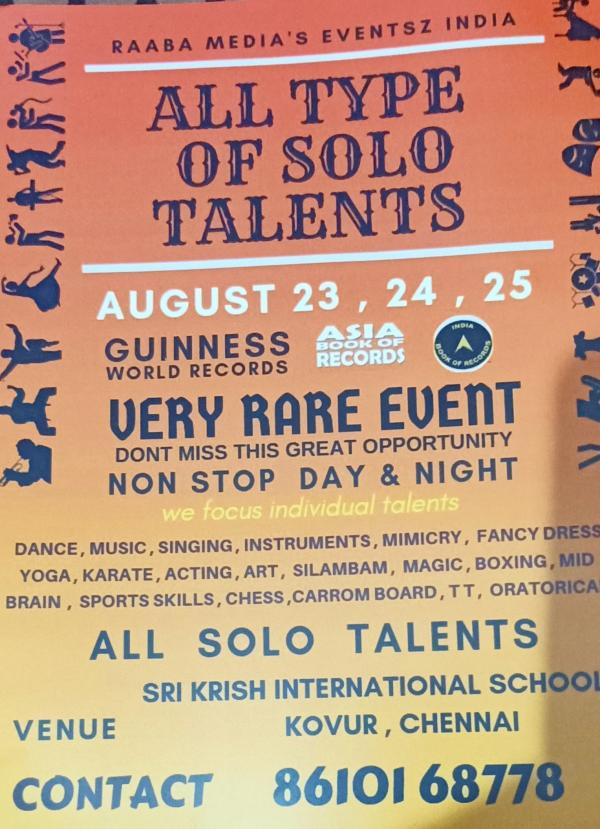 RAABA MEDIA GUINNESS WORLD RECORD EVENT