Greetings from ThinkDiff S'kool!
Every year, Technovation invites teams of girls from all over the world to learn and apply the skills needed to solve real-world problems through technology.
In our efforts to encourage young girls to coding, we have organised a free Android app design and development workshop for girls( 10 – 17 years) on
Date: Feb 24, 2018
Timing: 9:30 to 1PM
Venue: Smart Minds Academy, West Mambalam.
1. Learn the basics of coding with App Inventor and brainstorm problems in your community.
2. Have a chance to start prototyping your mobile app solutions.
3. Participating in these workshops is a great way for students to meet teammates and mentors to pair up with teams.
4. Get a chance to meet young women in technology and get inspired.
Certificates will be provided.
Please mail with details – Name of the child, Class , School to register. Call on 80561 00293 for further information.
ThinkDiff S'kool team
80561 00293
info@thinkdiffskool.com
http://www.thinkdiffskool.com/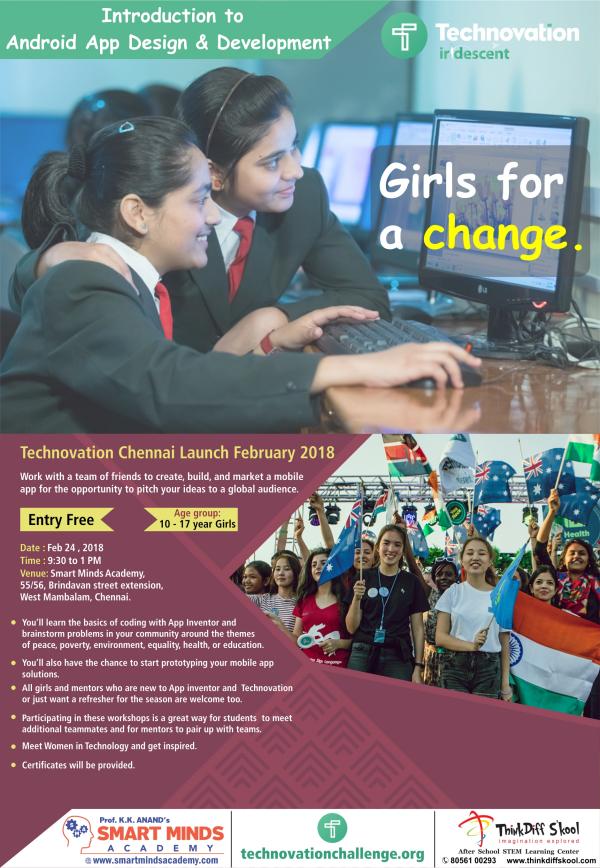 Free Android App Design and Development Workshop on Feb 24,2018 for girls