Anger Management Workshop on 25 Feb 2018, Sunday at Ojas Eduland.
Age Group
5 to 10 years : 10 am – 1pm
11 to 17 years : 2.30 pm – 5.30 pm
Objective of the workshop is to understand the emotions and overcome the anger.
This workshop will help the children to get away from the anger, which may carry-over to their adulthood and may harm their future.
The children will be introduced to creative activities to deal with ANGER and help them to find out the ways to lessen the incidence of getting anger.

Activities in the workshop:
Fun with Fruits
Clay Modelling
Meditate with music
Cool Stories
Colouring Emotions
For whom: 5 to 17 years children
Registration Fee – 500/- per child
Fruit Juice & Snacks will be provided during the break
Event Venue:
Ojas Eduland
Z- 72(A), Door no – Z -117, Ground floor, Z block,
5th Avenue, Opp to DSK Benelli Showroom,
Near Blue star Saravana bhavan hotel, Anna Nagar west, Chennai – 40
Mobile, 94984258 98 / 99 86 58 44 33 / 89 39 55 38 98
Email:  ojaseduland@gmail.com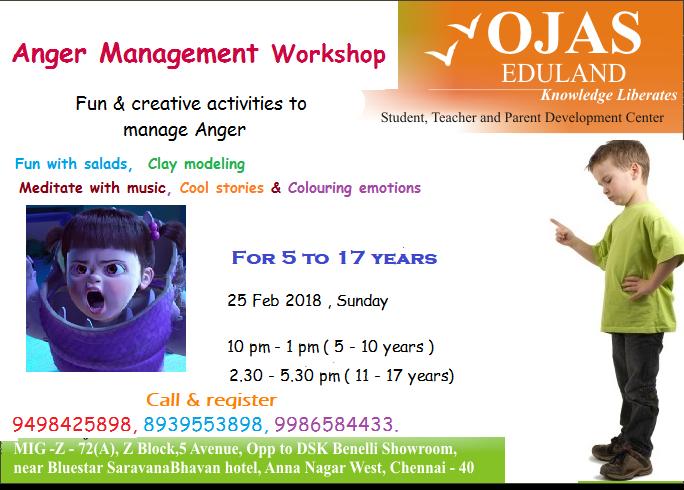 Anger Management Workshop on 25 Feb 2018, Sunday at Ojas Eduland