The Vedanta Academy, CBSE School is organizing NEELA KESAV ROLLING TROPHY TOURNAMENT for Football & Throw ball.
To
Principal/Correspondent
Dear Sir/Madam
The Vedanta Academy, CBSE School started at Vanagaram, Chennai catering to Montessori to Grade VIII this academic year 2017-18 and becoming K-12 segment in the following years. The school is run by Neelammal Eduation Trust with Mr K Ramadoss as Chairman, Mr Sundeep Vasu as Director and a team of young and energetic governing council members.
We are organizing:'NEELA KESAV ROLLING TROPHY TOURNAMENT" to commemorate the 100th birthday of the founding father SHRI KESAVALU NAIDU.
We are pleased and honored to invite your school team to participate in the Football and Throw ball tournament to be held on 01.09.17 and 02.09.17 at our school premises. We are committed to make this event a successful one with your support and participation. We will create an ideal atmosphere for the participating team and ensure that there will be fair play and true sportsmanship.
Looking forward to your participation
Thank you
Lakshmi Venkat
Principal
No. 90, Noombal Main Road, Vanagaram, Chennai
Phone: 044-26493777 /26493888
Email: mail@thevedantaacademy.in
PROSPECTUS FOR NEELA KESAV ROLLING TROPHY 2017
The Tournament will be held on 01/09/2017 & 02/09/2017
A school can participate with one team only & The age limit is under 14 ( VIII STD and below) ,Students ID card is compulsory
The entry form along with the entry fee of Rs-200/- per team should be sent to the Principal on or before 28/08/2017
The team should be prepared to play the matches at any time (8am to 4pm)
Bonafide certificate duly singed by the Head of the Institution should be produced along with the entry Form
The team should report at least 30minutes prior to the each match in a proper school uniform / team uniform
The decision of the organizing committee will be the final in all matters
The Organizers have the rights to change the timing of matches, if necessary
The communications and entries should be addressed to the Principal / Physical Director
The competition will be conducted in knock out basis
Rolling Trophy's will be presented to the teams emerging Winners and Runner's- up
Individual prizes and certificate will be given to the Winners and Runner's-up
Late entry will not be accepted
For Further clarifications, kindly contact….
9787898552 (Dept of Physical Education)
7358395195(Admin officer)
NEELA KESAV THROW BALL ROLLING TROPHY FOR GIRLS U-14
Each team should have nine players and three substitutes
All matches will be based on the best of three sets
T.F.I Rules will be followed
The students should accompanied only by Team manager or Physical Director/ P.E.T
Cash Award for Winners team -5000/- , for the Runners-up team 3000/- and for
2nd Runner-up team 2000/-
NEELA KESAV FOOT BALL FIVE-A-SIDE ROLLING TROPHY FOR BOYS U-14
Each team should have five players and three substitutes
Rules and regulations are subject to modification by the Organizer. The teams will be informed well in advanced
Football boots will not be allowed
The duration of a game is 15 minutes for each half with an interval of 5 minutes. Incase if a drew , the winner will be decided by "THE BREAKER" system followed by "SUDDEN DEATH" system No extra time will be provided
The students should accompanied only by Team manager or Physical Director/ P.E.T
Cash Award for Winners team -5000/- , for the Runners-up team 3000/- and for
2nd Runner-up team 2000/-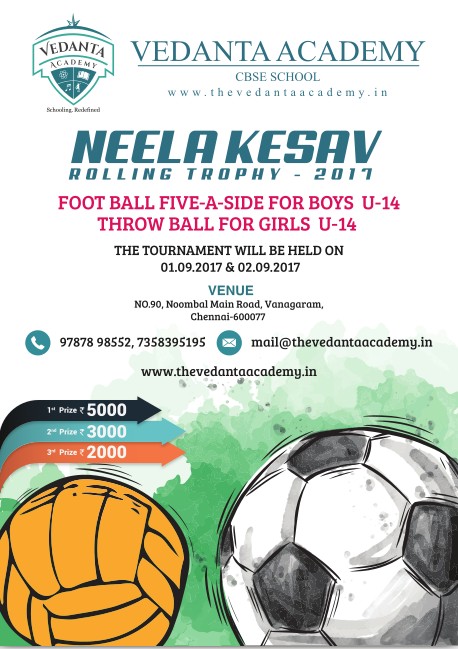 NEELA KESAV ROLLING TROPHY TOURNAMENT for Football & Throw ball