Greetings from ThinkDiff S'kool. Albert Einstein rightly said "The important thing is not to stop questioning. Curiosity has its own reason for existing." We have seen that the imagination and curiosity has transformed the world in a significant way.
In today's technology driven world, students with the ability to learn and have skills to innovate have better opportunities and success. Programs that focus on creativity, critical thinking, communication and collaboration skills are a must to prepare our students for the future.
We at ThinkDiff S'kool offer programs that foster the 21st century learning skills in our kids. We empower our kids to learn to make their ideas reality.
We are launching the following programs from November 5, 2016.
SCIENCE – JUNIOR SCIENTIST – Foundation Level (Kids 6 to 16 years)
Saturdays – 4 to 6 PM
PROGRAMMING – CREATIVE CODING ( Kids 7 to 16 years)
Saturdays – 3 to 5 PM
PROGRAMMING – C PROGRAMMING ( Kids 10+ years)
Tuesdays – 4:45 to 6: 15 PM
Maximum of 10 kids per batch. Limited seats . Contact – 80561 02293 for registrations.
ThinkDiff S'kool is @ 528, Ramasamy Salai, KK Nagar, Chennai – 78.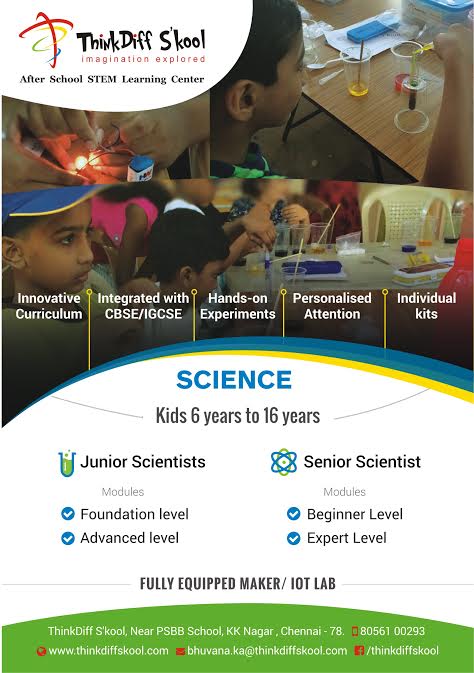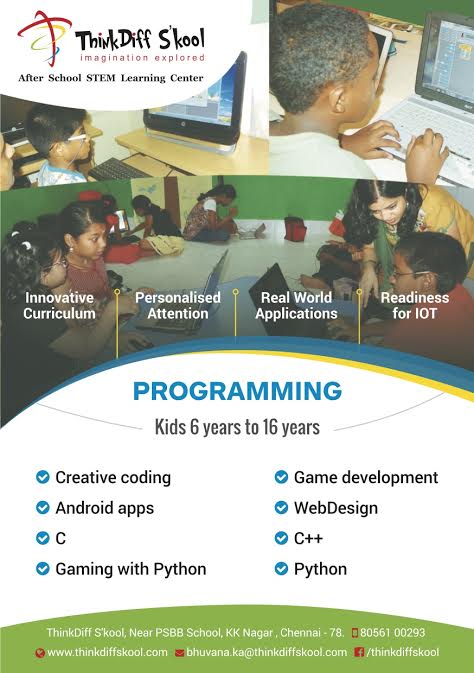 SCIENCE & PROGRAMMING CLASSES (6+ years) from Nov 5, 2016