An Exclusive Value Based Traditional Summer Camp "Bala Gurukulam"
at the The Mylapore Trio Foundation Premises, From 2nd May to 14th May 2016, at the Foundation Premises.
New No. 5, Old No. 3, (1st Floor), Third Trust Link Street, Mandavelipakkam, Chennai – 600 028. (Near ICICI Bank & Sub. Registrar Office – Santhome High Road).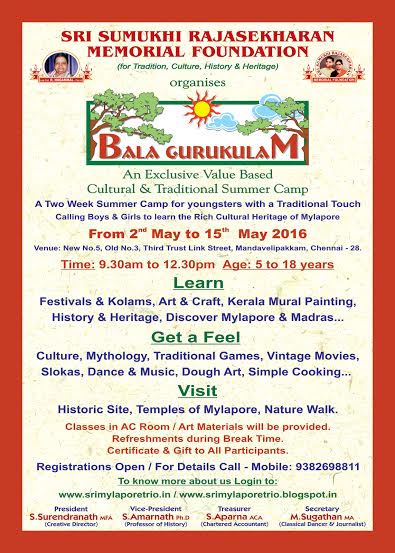 A 14 day Summer Camp for youngsters with a Traditional Touch. Registrations Open Calling Boys & Girls to learn the Rich Cultural Heritage of Mylapore.
Time: 9.30am to 12.30pm Age: 5 to 18 years
Learn About :- Festivals & Kolams, Art & Craft, Kerala Mural Painting,History & Heritage, Discover Mylapore & Madras…
&
Get a Feel of :- Culture, Mythology, Traditional Games, Vintage Movies,Slokas, Dance & Music, Dough Art, Simple Cooking…
&
Visit :- Historic Site, Temples of Mylapore, Nature Walk.
Classes in AC Room / Art Materials will be provided.
Refreshments during Break Time.
Certificate & Gift to All Participants.
Registrations Open / For Details Call – Mobile: 9382698811
To know more Login to:
www.srimylaporetrio.in
www.srimylaporetrio.blogspot.in
An Exclusive Value Based Traditional Summer Camp "Bala Gurukulam"